Lesson for the Day
Don't start a Bigger Tourney unless you are prepared to keep playing for 10 - 12 Hours. How it happened Yesterday afternoon had finished playing for the day so was sippin on a nice dry red and enjoying the company of my Bud from B.C. and railing some poker pals in the Big Bang. By early evening was feeling sleepy so went and laid down for a wee nap.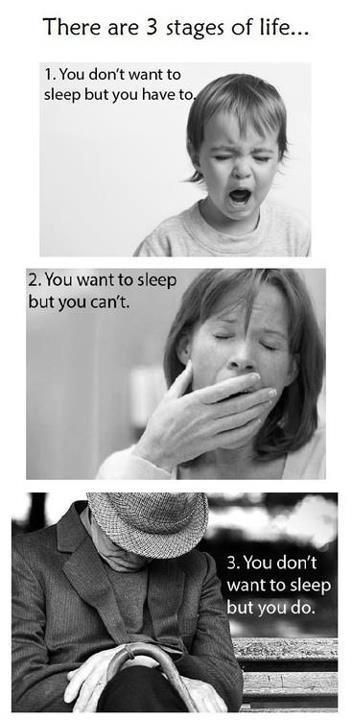 4 hours later I wake up and look at the clock OMG it's after Midnight and I am wide awake. Ut Oh
So rather than just lay lay there counting sheep figured may as well get up see what's on the BooB Tube and shocker, was mostly reruns. So decide to come online and maybe play a little poker when I spot the Bigger $3.30 Registering and on impulse regged. Now those that know me know that I don't normally play the big tourneys anymore.I prefer the MTT SNG's and smaller field tourneys that are over in 3 or 4 hours at most. Also really hate the long late registrations to me 120 minutes is way too long Anyway I decided since nothing else was happening and wasn't much on cable to play and have some fun.. And it was fun for the first few hours, player on my right was a drunken maniac playing almost every pot.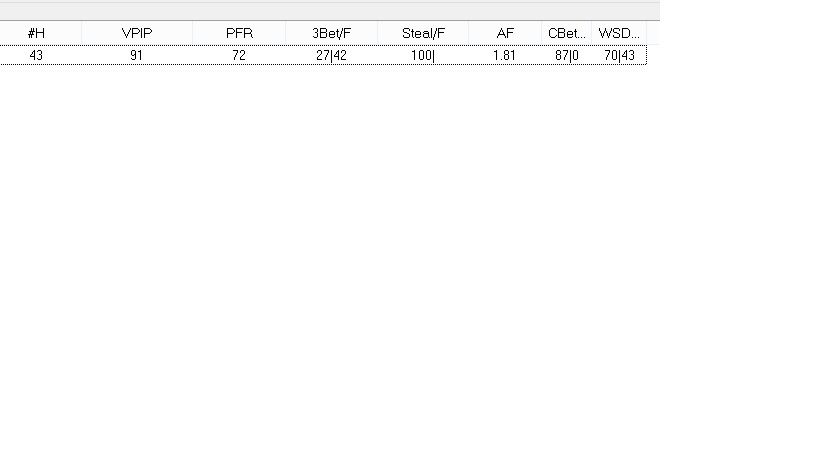 I battled with him a few times but he was catching cards and so had to be cagey and pick my spots, did manage to double through him before he lost his huge stack like I knew he would. After he donked out things settled down to normal and played pretty decent poker for the next few hours. As each break came and went I was getting so sleepy could hardly keep my eyes open. So since the pay structure is so top heavy decided to start gambling to build a big stack or go to bed. Well as usual when you start pushing after playing tight nobody wants to call you. Haha that is until I pushed with 9 8 Suited and got a call by a big Ace, guy cursed me good when rivered the str8 So now am sitting with 40BB stack and approx 200 players left but am sooooo tired and make the 6 am break my time I give up and sit out..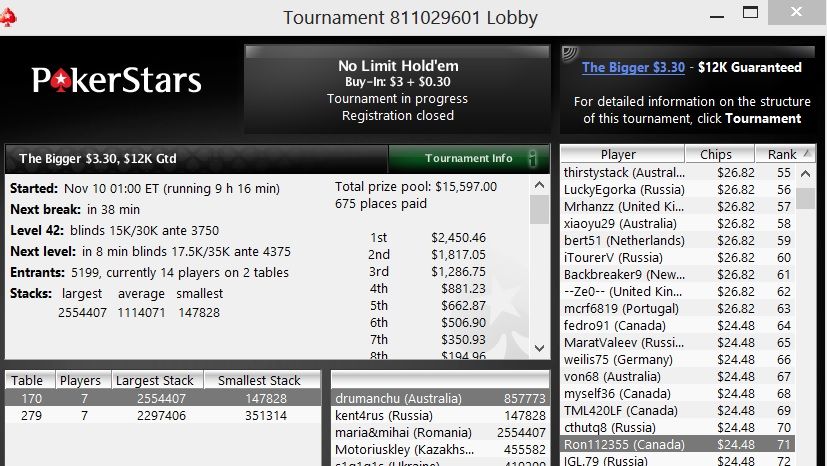 PokerStars Tournament #811029601, No Limit Hold'em Buy-In: $3.00/$0.30 USD 5199 players Total Prize Pool: $15597.00 USD Tournament started 2013/11/10 1:00:00 ET Dear Ron112355, You finished the tournament in 71st place. A USD 24.48 award has been credited to your Real Money account. As I write this it is now 11 a.m my time and am sitting here watching the final table… No guarantee that had I lasted I would be there but we will never know now…. Have a great day on and off the felts peoples.