PokerStars Player Representatives Report
cliffs
● All changes will be implemented on February 1, 2012
● VPPs will continue to be awarded according to the weighted contributed system.
● Overall rake has been reduced by about 2% from the 2011 rates, which is giving more back to the players than the 1.5% loss in VIP rewards
● Supernova/SNE kept for 2013 as long as monthly VPP maintenance requirements are met in 2012 (this year only)
● Supernova/SNE lasts for 12 months instead of 9 when monthly requirements are met and the right to miss one extra month taken into account.
● Supernova monthly VPP maintenance requirement lowered to 6500 VPPs/month
● 3c-6c and 8c-16c NLHE levels will be added
New Rake Structure (USD)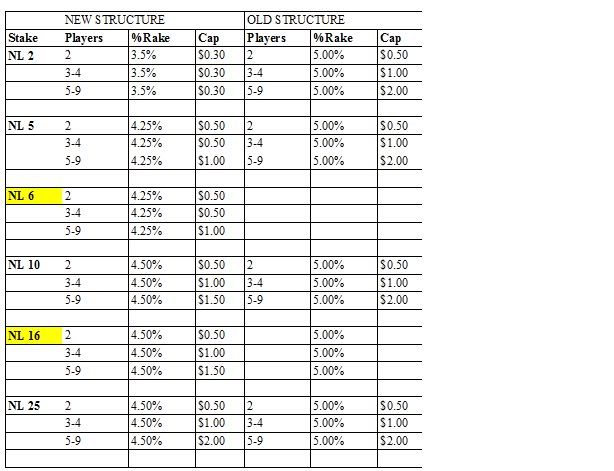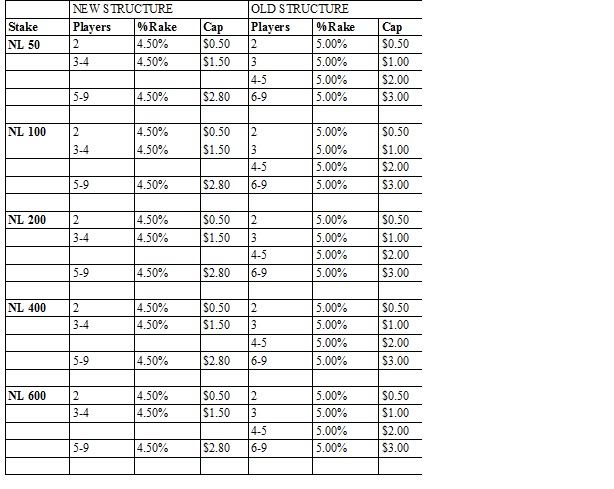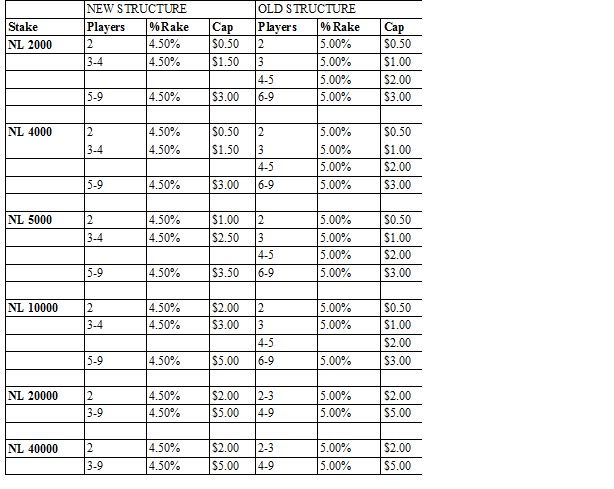 Introduction
Stars announced changes on December 28th to be implemented on January 1st, 2012:
● VPPs allocated by the weighted contribution method instead of the dealt method
● Major rake changes involved decreased rake percentage and caps at many levels.
● Rake is taken at a true percentage instead of incremental.
● PokerStars canceled the rake changes pending the results of this meeting
Key Issues Raised
General
● Rake at the microstakes was high to the detriment of the whole poker economy because new players were "discouraged" by losing money too quickly
● Rake at some games made them almost impossible to beat: CAP games, Limit Hold'em and Micro/Low Stakes Big Bet
● Delays in communication of changes
Weighted Contributed Change
● Distribution of VPPs and FPPs shifted from SN+ to Platinum Star and below
● SN+ tiers are harder to achieve for many players
● Claims that PokerStars was increasing profits
Rake Changes
● Rake increase at some stakes
● Lead to claims that PokerStars was increasing profits
Solutions from Player Meeting
Rake Revenue
The change from dealt to weighted contributed rake gave PokerStars an increase in cash game revenue of about 1.5%.
PokerStars originally reduced rake to the extent that only 1% of the 1.5% revenue was returned to the players. They have now agreed to reduce rake by about 2%, resulting in a net revenue loss for PokerStars and net revenue gain to the players.
Rake changes occur in terms of either cap changes or rake % changes.
Rake Reductions
About 40% of the rake changes are associated with microstakes games. Every game at the microstakes has seen a rake reduction.
Rake Increases
● Rake at big bet games 25/50 and higher has increased
● This rake increase goes directly back into lower stakes games
● Rake at the high stakes games is very low in terms of bb/100 compared to lower stakes games
● PokerStars still offers competitive rake structures at these levels
● Associated costs with these games are much higher due to detecting collusion, fraudulent deposits, monitoring games, etc
Supernova/SNE Made Easier
● Returning SN/SNE players now can miss 2 of their monthly VPP retainers before they lose status
● Returning SN/SNE players will keep their status for 12 months instead of 9 months if they meet the retainers
● SNE requirement remains at 50,000 VPP/month and SN is reduced to 6,500 VPP/month
Supernova/SNE 2012-2013 Only Change
● Returning SN/SNE players now will retain their status going into 2013 if they accumulate a yearly VPP total equal to 10 retainer months
● For example, an SN earning 6,500 per month in each of 10 months would need 65,000 VPPs and an SNE earning 50,000 per month in each of 10 months would need 500,000 VPPs to keep their status throughout 2013
● To be clear, you must earn the 6500 or 50,000 in 10 different months
● This only applies this year and retaining status only includes the higher FPP multiplier (does not include milestone bonuses or tournament entries)
New Micro Levels
PokerStars has agreed to introduce two new stake levels for NL Hold'em of 3c/6c and 8c/16c. This will make it easier for players to move up/take shots at a higher level and should help to "unblock" the micro stakes. If these prove successful, new stake levels will be considered.
Fact Checking
PokerStars has agreed to revisit the rake figures later in the year, and if the actual rake differs significantly from the projected rake, then they may make further rake reductions.
Additional Issues
Communication
PokerStars has recognised that it made mistakes in communicating the latest changes.
● It has committed to providing as much notice as possible before making changes in the future
● It will invite player representatives to discuss issues with PokerStars, twice a year in April and November
● PokerStars reserves the right to make changes without prior consultation if business conditions necessitate. They intend this to be a rare thing.
VPP Multiplier
● Many players now have different VPP rates per hand than before. Data shows average losses at 14.3% for SNE and a 13.0% loss for SN.
● The total amount of VPPs remains the same, so VPPs reduced from higher tiers are entirely redistributed to lower tiers.
● PokerStars will not reduce the 6x VPP multiplier at full ring games. They recognise the inequality, but full ring games are a small portion of real money games. This should be considered a bonus for full ring and not a punishment for other games.
● 8c/16c will have a 6x VPP multiplier at 6max. 3c/6c will be determined.
PokerTableRatings (PTR)
PokerStars opposes the exposure of player information by PTR and will take whatever action it can to prevent this information from being publicly disclosed
Max Table Caps
We have been briefed about plans to cap the maximum number of tables. If you keep timing out and frustrating other players by acting more slowly than the average player, Stars will reduce the number of tables you are allowed to play. If you are playing 24 tables and acting much more quickly than the average player, you may get a max table increase.
General
We were given access to confidential information and data which we analyzed. We tried a number of sensitivity tests that make us confident that the changes listed above do mean PokerStars is putting extra money into the poker economy rather than removing money.
One final point: I think that this is a first in the poker industry, that major changes to product and pricing have been announced by the players and not by the company.
Please Visit the
PokerStars Player Representatives Report RAKE & VIP changes*OFFICIAL DISCUSSION*