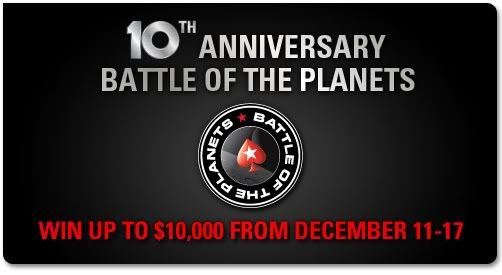 Double Battle of the Planets Points Week!
For one week only, the legendary Battle of the Planets Sit & Go Leader Boards are joining the 10th Anniversary celebrations and awarding double cash prizes across all divisions! Play as few as just 20 of your favorite tournaments and you could be taking a share of thousands of dollars in added value.
What's more, any player who beats a 10th Anniversary Target Score on their Leader Board will be awarded a cash prize of $10,000!
Here are the Target Scores you need to beat for each division: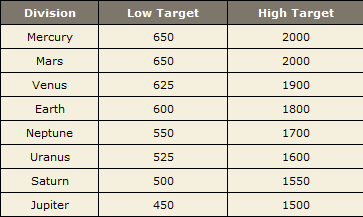 Prizes will be paid out on December 19, once all routine security checks have been completed.
Here's how the 10th Anniversary Battle of the Planets works:
All Battle of the Planets divisions have their own weekly prize pool, split between the Low Orbit and High Orbit Leader Board. For the week December 11-17, all weekly prize pools will be doubled as follows: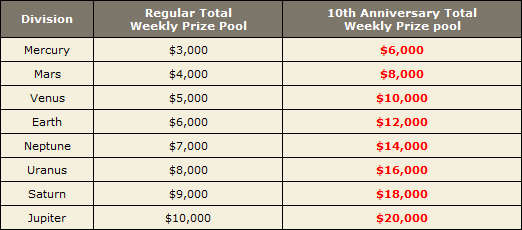 Visit the 
Battle of the Planets
 pages to find out more about how it works, including each planet division.
Battle of the Planets 10th Anniversary Timeline
The Battle of the Planets Sit & Go promotion was launched in 2008, and since then thousands of players have taken part. The highest-ranking players are invited to an exclusive tournament at the end of every month, with a $50,000 prize pool. Since its inception, Battle of the Planets has paid out more than $10,000,000 in prize money to Sit & Go players.
Click here for the discussion thread:
[10th Anniversary PokerStars] Battle of the Planets Sit & Go Bonus Cash Prize Week