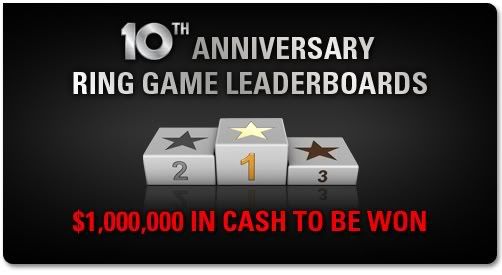 Play Poker Cash Games for a share of $1,000,000 in added prizes!
This special 10th Anniversary ring game celebration is awarding $1,000,000 across ten days of exciting action. Each ring game stake tab in the PokerStars game client is being given its own Leaderboard, which means that everyone can take part and win big. Simply play as many hands as you can in the qualifying period, as the players who earn the most VPPs win the biggest share of the cash!
Here's how the 10th Anniversary Ring Game Leaderboards work:
There is a separate Leaderboard running for each of the following stake levels in the game client, from November 23-December 2:

Every ring game variation counts towards this promotion. It doesn't matter if you play Hold'em, Omaha or Stud - there's prize money to be earned across the board!
Each Leaderboard period lasts for 24 hours, after which the rankings are re-set. The players who earn the most VPPs in each stake level will win a share of $50,000 every day as listed below. Plus, any player who finishes in the top 1,000 in any of the Leaderboards will also be awarded a ticket to an exclusive freeroll with a prize pool of
$500,000!
The freeroll will take place at 12:30 ET on December 11. Entry tickets will be awarded by December 8. Only one ticket will be awarded per player, regardless of the number of top 1,000 finishes achieved. Entry tickets cannot be exchanged, transferred or sold. Unused tickets will expire after the $500,000 freeroll begins.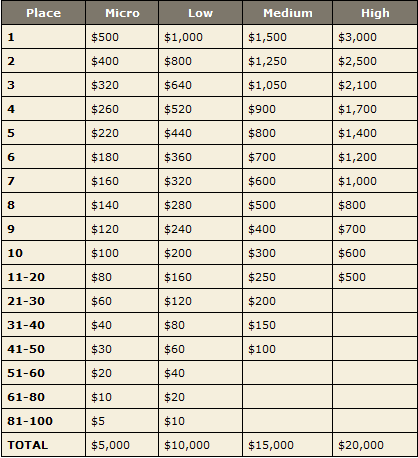 Prizes will be paid out within 48 hours of the conclusion of the day's play. In the event of a tie, prize money will be split evenly between tied players.
Ring Game Leader Boards 10th Anniversary Timeline
PokerStars has produced some of the best ring game players the game has ever seen over the course of ten years, with millions of members competing in the widest selection of games across every different level. The high-stakes games meanwhile went into overdrive in early 2011 when online phenomenon Isildur1 was unveiled as a new member of Team PokerStars Pro. VIP Player Points are earned in every real money ring game hand played, giving players the chance to rise through the ranks of the VIP Club.
Click here for the discussion thread:
[10th Anniversary PokerStars] Ring Game Bonuses