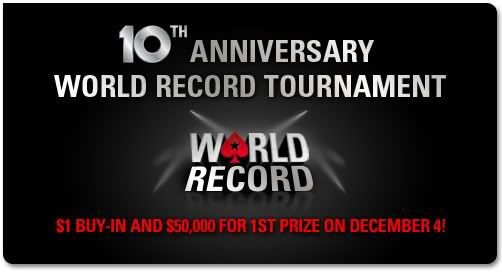 The poker tournament for a new world record
On December 4 you can be part of history as PokerStars aims to break its own Guinness World Record for the largest poker tournament ever staged! Entry costs just $1, and with a guaranteed $50,000 for first place, you get great value, plus the chance to be part of something truly special. The record attempt will be sanctioned by Guinness World Records and listed in their renowned database of 'world bests'.
Here's everything you need to know about the 10th Anniversary World Record Tournament:
• Date:
 December 4
•
Time:
 12:30 ET
•
Buy-In:
 $1
•
Prize Pool Guarantee
: $250,000
•
Grand Prize:
 $50,000 for first place
To register for this special tournament, open the PokerStars client and click 'Events', '10th Anniversary' & 'All'. To find it even faster, type the word 'record' in the Tourney Filter.
PokerStars already holds the current World Record, but it's only right that we should celebrate the 10th Anniversary with a new target of 150,000 players. Don't miss out on joining Team Pro and thousands of others in the biggest poker tournament of all time!
World Record Tournament 10th Anniversary Timeline
The world's largest poker site has been setting new standards and smashing records since 2001. One of the biggest achievements of all however came in 2009 when a staggering 149,196 players took part in the same tournament, setting a new World Record that still stands today. But now it's time to aim higher than ever before, and you can help us make history once again for a buy-in of just $1!
The discussion thread for the World Record Tournament is here: 
[10th Anniversary PokerStars] World Record Tournament