Have posted some of this about the e-poker in the Live tournament thread, but thought i would post more about the subject and maybe gather some opinions thoughts on this new wave of poker and table games. Below is some pictures from Hoosier Park Racing & Casino and Indiana Live! Casino.
The top pictures are of the new "Organic Table Games" from Hoosier Park, and their brief description.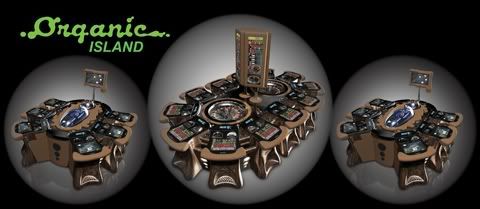 THE MOST INNOVATIVE AUTOMATED
TABLE GAMES IN THE COUNTRY
EXCLUSIVELY AT HOOSIER PARK RACING & CASINO
Hoosier Park is thrilled to be the first in the United States to bring new generation electronic table games that offer a multi-player, genuine gaming experience. Our new electronic blackjack games feature real cards in an eight-deck shoe and are played under European rules. The Game offers $10 minimum and $450 maximum bet with the dealer hitting on soft 17. Plus, our new roulette table features dual roulette wheels for continuous gaming action. These innovative, new-age games were the first introduced at the world famous Monte Carlo casino in Monaco and are now available right here in Indiana - only at Hoosier Park Racing & Casino!
Below is the new wave of e-poker that is popping up everywhere.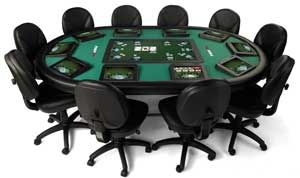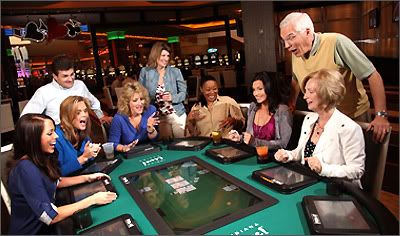 Below is the Poker room at Indiana Live! Which I am going to go to this weekend and check it out for myself.