Hi everyone
Lately I was trying to work on getting more value from my big(gish) hands - but sometimes my ranging of players isn't so accurate, and the hands that seemed like they might be big(gish), weren't so much ... Was my river overbet maybe a bit too thin in this spot, given that I wasn't entirely sure what the villain had? It seemed like the villain would have have bet the turn with a straight, and bet the river with a boat ... but I hoping to fold out QQ-AA with my river shove - and then the villain called :o Villain's HUD Stats: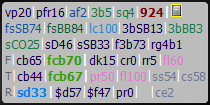 My Notes on Villain:
WEIRD RANGE - BEWARE! T8s(called my 3-bet oop, then chased a flush on a K-high board and crack my AA on the turn) A9o(bvb calling range - bet, then checked behind on a 23AT board - seems to play normal TAG post-flop? We tied on the river) K9s(from utg??)
Did I maybe just get lucky here?
Thanks for the help!