Hi everyone!
My nickname (as you can see) Taurus221,but you can call me "Tau".
I was an active forum member of the Pokerstarschool Hungary since 2013 (ok i'm lied a little,in the beginning i wasn't too active :P),until it's closed (ok technically not closed,but the forum and blog page is removed for unknown reasons on 1st of July). So in nutshell,that's why i'm here now,searching new platforms where i can continue,some people who i can talk about hands,or maybe i can help,etc...
In poker,i'm now a recreational type player,who just want to enjoy the game,and at the same time trying to play +EV game. I was once close to be at least a part time player (i was laddered up from 25c to the 15$ spin limit about 6-7 month),but after 2 month i decided to cash out and technically gave up. I was also built a bankroll twice from nothing,first up to 92$ (i busted this) and the second time up to 1K$. And once i was really close to the WCOOP ME,in 2014. Where i almost reached it with only 3FPP(now it called Starscoin). I was beated 7 or 8 sat (i don't remember correctly),and only 1 sat remained,and there i lost early on a flip (JJ holded against my AKo). This was the turning point of my poker "career" where i started to take seriously.
My primary games are NLHE shorthanded hyper turbos:
- hyper HU.
- hyper 4-6 max sat.
- hyper 6max SNG.
- and of course Spin & Go.
Today i started a "1$ road to 15$" spin challenge. I played little bit more than hundred today on 1$ limit,and luckily i've got a good start (well at least my EV graph got a good start
).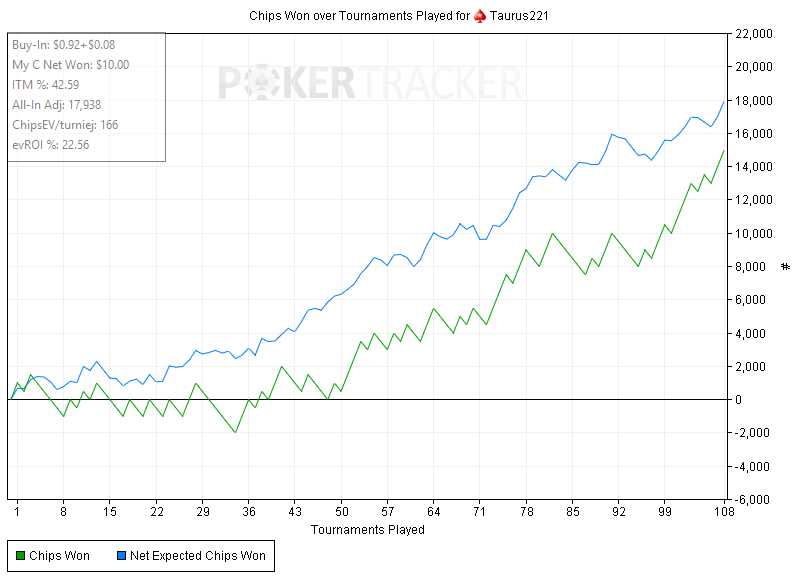 Maybe i'll write here some daily or weekly summary about it,if someone is interested.