Don't you feel that when your league tourney starts, you play blind?
Once your skill league tournaments began, you may wonder:
* On which position you should make to ensure you at least get even and start to earn the league points.
* If you are already within the top 6.25% of the tourney, how many points will you gain, if another 10 players are busted out.
* If there are only 200 players remain, your stack is too short to stick around, should you shove with marginal hands?
Since you are already within the money or approaching to the money of the skill league leaderboard, it's no longer freeroll to you to play, any point of your score is a piece of your potential money. You earn it slowly, but you lose it quickly, especially when you are in the top of the list of the leaderboard.
There is no definitive answer to those questions(same old same old), but if you know your previous tournament score, For instance, If you won 20 points last tournament, and there are still 4000 players remain, and you apply the scoring calculator, find that if you are knocked out here you will lose 15 points, but you are now holding AKs and there were 2 opponents shoved. Should you call and risk your tournament life here? Yes, you should, cause you know that even you are knocked out here, you still earn 5 points on that day, so why not? it's pretty much like freeroll to you, plus, you may find that you are in a great shape to more than double up your stack. Another example, for a 10000-participant tournament, the top 6.25% is 625 players, if there are 600 players remain, you hold AKs again, 2 opponents shoved again, by applying scoring calculator, you find out if you can last more longer than every 10 players are knocked out, you can earn yourself another more 0.64 points, and the rate of player reduce in the tournament now is probably 10 players/min. Should you call? I would rather stay. It's too early to give up this good opportunity to gain points. If you can last to the top 500 you can earn yourself another 6.4 points, top 400, another 12.8 points, top 300, another 19.2 points, and so on. Even you think you play well, but there are not that many chances you can make a deep run to the top 6.25%, you might wanna extract as many points as you can. but if there are only 200 players remain, and you are in a short stack, and player reduce rate is getting slower and slower, which means you should shove with any 2 to try to get in the final table and gain yourself at least 10(plus 12 from 200th to 9th) more points there.
Why should I need a scoring calculator?
I don't know, it's up to you, maybe you already have your own calculating tool(like Excel, Matlab, ...), but if your opponents of the league leaderboard who did have their tool to help them to make the decisions in some tough circumstances, you might find that you are lack of information of the game. If most of the participants know what they play for, and know exactly their score now, the game might be much more playable, and maybe less lotto players there, cause almost every lotto player doesn't even know what he/she play for in the tourney. Meanwhile, the time-bankingers might reduce too, cause if there are not that many lotto players, reducing rate of the players of the tournament might be much more slower, so time-banking becomes a weak tell, and becomes an edge to the good players to pick up.
How to use it?
Scoring calculator App. is a simple, compact, instinctive and convenient App. You apply it then you will know how to use it.
download here
https://docs.google.com/file/d/0B6ls...it?usp=sharing
There are 2 main functions of the scoring calculator, list and record.
1. List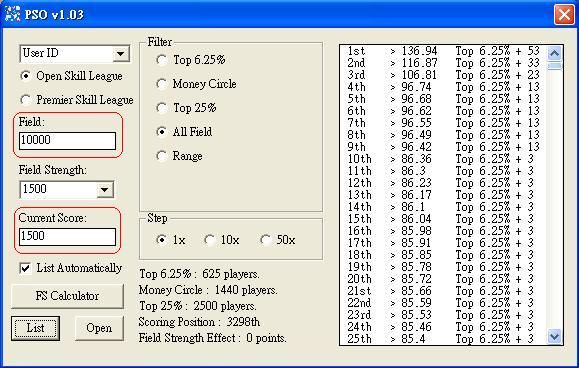 If you just wanna know the score list of the tournament, just input the participants of the tournament and your score in the "Field" label and "Current Score" label respectively, then press "List" button. Easy,huh, or you can click any option in the frame "Filter" and "Step", it will list the info you are interesting, just make sure the "List Automatically" has been checked. If you choose the "Range" option, and input a particular rank you wanna know the score, it will list 24 scoring info according to which adjacent spot you chose in the step frame(1x, 10x, 50x). You don't need to worry about the field strength value, it will input automatically according the day you open it, and it use the average field strength of the day. You don't even need to worry about the accuracy of the field strength, cuz every 33 difference of the field strength can only cuz 1 points difference from your actual score and calculating score, actually the score it predicts has 98~100% accuracy. But, if you want your field strength value more precise, use "FS calculator" to get the FS of the same day and same game of previous month.
2. Record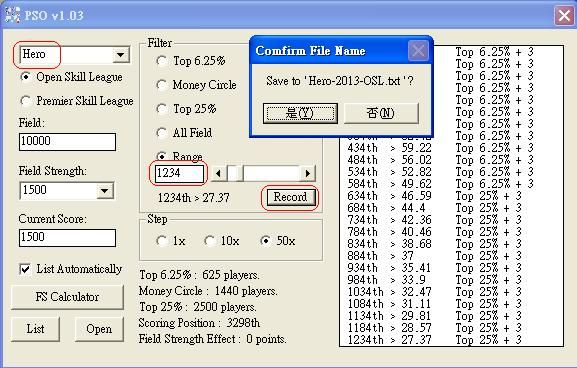 "I play 5-6 tourneys per day, every time I use the App., I must calculate the current score again, so inconvenient."
No problem, if you first use the scoring calculator, after you be busted out of the tournament, you input your rank in the "Range" option, and input an ID in the "User ID", then press "Record" button. your score will be record, your "Current Score" will be updated automatically. If you wanna check your record, press "Open" then you can see it, if you want, you can update your actual score there, it will do some calculate for you. If you don't wanna update,that's fine, since it has 98%-100% accuracy to your score, you don't even need to worry about your score, it won't be too much different from your real score.