Sept 2 2013.
I know to more than a few of you this will be a no big deal type of blog.
But to me it is a huge decision to play this, keep in mind that I am not some rich guy that can afford to throw away thousands of bucks just for shiggles. I am a twice divorced middle aged guy with very little savings for my retirement thanks to messy divorces and blood sucking lawyers ( No Offense to any Lawyers reading this)But if I can score a big payday this month it could be life changing.
I don't know for sure how many of the events I will end up entering. I am going to see how the first few play out. My problem is going to be stamina, after looking at the structure of most of the events I would be interested in entering, is how bleeping long they are.
A 12 or 14 hour 2 day event is nothing for a B&M Casino event, but they get to take meal breaks. Online you get 5 minutes per hour. Meals shouldn't be too big of a deal if I move my gear to the kitchen I can prepare a meal while playing. This does create another problem, what go's in must come out so I may have to put a table in the bathroom just in case.
Another wee problem is that my job requires that a few times a day I take a site tour and make sure all is well and no vandals or thieves have been about. I live and work at a Resort in the Haliburton Highlands that closed due to financial difficulties. The Receiver pays me to live here and keep an eye on things for them. The tour usually takes 15-20 minutes so if required I may be forced to sit out a round now and again
One good thing for me is that if the weather is nice I can set myself up on my front porch so I can enjoy the view instead of being locked up inside for the whole day.
So that's it on to some poker,
My bankroll to start is $750, I can reload if need be but hoping that won't be needed if I can score in the first events.I am not a fan of turbo or rebuy formats so it will leave me limited as to what Sat Tourneys I can enter.
I think for my situation the 11 AM event start time is best for me so my plan right now is to play in
Events #2 #22 #43 #64 and of course #66 the main event as I plan on winning a ticket in the
VIP 1M Giveaway
Here is a screenshot of the cash sats that come up when I have my filters turned on.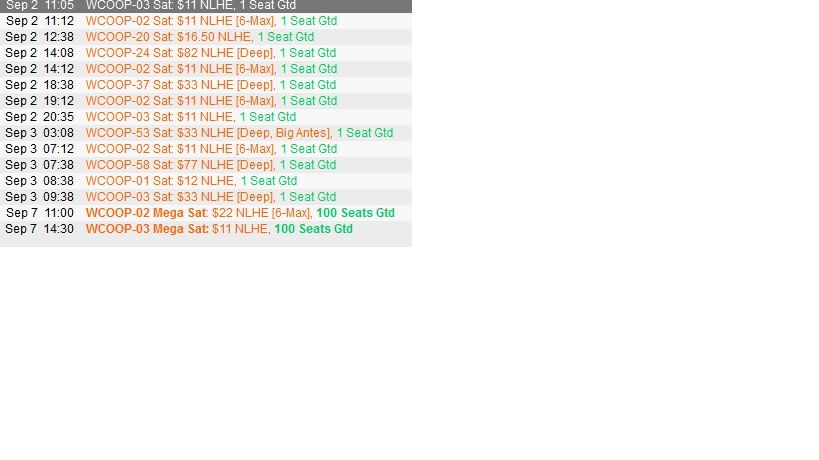 As of publishing I have played in only two
Sept. 2/13 Event # 2 Sat $11 26/40 - $11
Sept. 2/13 Event # 2 Sat $11 11/50 - $11
Love the format (6 max 1500 starting stack with 15 min blind levels)
Gonna try a few more today for sure.
That's all for now folks thanks for reading, any constructive feedback will be much appreciated, I do plan on posting exit hands and results so check back often..