.
.

Ace McCracken, EPC AP
www.epcpokerleagues.yolasite.com
Hiya folks, Ace McCracken here, Johnny on the spot reporting what's hot. I was off duty last night and about to enter the theater with my moll Betty Lou when one of my trusty moles delivered a message marked "urgent"....there was something big going down at EPC Poker Leagues again. Details were sketchy but hey this is EPC, so I flipped Betty a sawbuck (she's doesn't need to be fattening up on that fake butter crap) and headed for the felt.
.................................................. .....................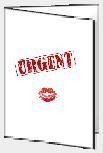 I burst into the lobby of the Thursday Night PL and found that the 143 person field had been pared down to 9. Final table. Of course it was chock full o' talent, that goes without saying but Ace McCracken will say it anyway....another who's who of EPC poker;
XBad_Company, Scott239, Dirty Rook, LBM&T, lovetofish11, markmad1, LeeSib, LeoDD383
, and the little known but winning prone
jim33_65
. A tough table for sure, but that happens every night, so why would my #1 mole interrupt me for this when I'm in the midst of trying to get some....popcorn. I noticed Johnny Pointdexter, my egghead on the street, standing idly by so I slid over and asked him if he knew anything. Holy smokes and sinful pokes, did he ever.
Check out this bomb Johnny P laid on me: Heading into the Thursday Night PL Dirty Rook and LBM&T were virtually tied for the league scoring lead. Rook held a miniscule 10 point lead over Lil Buddy in the race for the scoring title, 1,549 to 1,539. Amazing it could be that close after more than 9 weeks and over 60 tournaments of play. 10 Points. These two have put a bit of space between themselves and the rest of the EPC field for Season III dominance and a possible MVP award, and were making headlines earlier in the week with their League Champs exploits. First it was the Monday PL, where Dirty Rook entered that leagues last tourney of the season with a 60 point lead, only to go out early and have LBM&T grab the title by placing 2nd and scoring 92 points to take the lead. Then in the night game Rook returned the favor (kinda) by overtaking
Nannook
, who went into that leagues last tournament with the lead. This time Nannook went out early and Rook was left needing to finish at least 6th to take down the Monday Night PL Championship. He finished 5th in an exciting battle with
tommydoo
, who also had a chance for the title but came up short with a 7th place finish. Then it was LB's turn as he finished off a dominating Tuesday Night PL campaign, getting his record 8th cash to take the championship. And just for good measure Rook went and won the Wednesday PL to pull into contention for that title, just 19 points behind
0ZZY-STL
with one tournament left to play, a make up that will be held next Wednesday. Holy cow these guys make it look easy...too easy. And now here they are, battling to the very end of the season for the League Scoring Title. Final Table. Load of talent. Season almost over. 10 points between 1st and 2nd. Big point spread between 1st and 9th. And Ace was on the scene.
Final Table 11:36pm EST
When I got to the final table LBM&T had the 5th most chips, $23.4k, and Dirty Rook was 7th with $9.3k. Blinds were 500/1000 Ante 125, Avg stack $23.7. After 5 minutes of fairly uneventful play, and watching that meatball i luv2Jo try to impress people with his abilities to make pictures in chat - oooooh a fish, wow that's impressive...good God man - the action heated up a bit. First to fall was lovetofish11 (who I believe was the main recipient of luv's fish pic), going to the rail 9th. Good game fish. A couple hands later LeeSib, who won the Thursday Night PL last week, exited the final table on a failed bluff attempt vs LB, who had flopped a set. Good game LeeSib, nothing wrong with 8th place, a nice follow up to your win. LB was now sitting 3rd with a nice stack of $30k and Rook 7th, babystacked at $9.7k.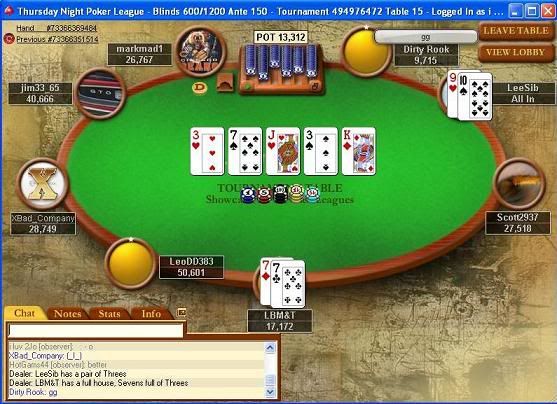 Rook didn't seem to like his babystack stature and went all in preflop 2 hands after LeeSibs exit. Leo called and they turned over their hole cards, Leo had AsJc, Rook 7h7c. The flop came AhQh5c. Rook's in trouble and his 10 pt scoring lead is about to evaporate along with himself from the tournament. The turn....is 7s, Rook lives! Luck, both good and bad, is part of the game, and every player, no matter how good, needs to stay on the plus side of that ledger to win and Rook is no different. But then again he did go into the flop ahead so I reckon he got a little of both with that one. Regardless, the hand bumped Rook up to $20.7k, a nice double up+ but still the smallest stack on the table. LB wasn't much better off at $27.9k, but both players have plenty of chips and lots of poker left.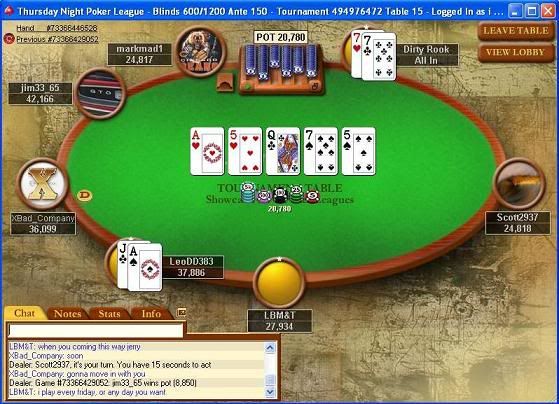 11:46pm EST
We are only 10 minutes into this final table and the action is fast and furious. These are no shy wallflowers sitting, a very aggressive lot they are: Dirty Rook, LBM&T, Scott2937, Leo, XBad, jim and markmad. Not a place for the timid that's for sure. LB surely wasn't askeered and got pushy, rattling off a couple nice wins to bump himself up to $32.8k. while Rook lost a blind and dropped to $18.8. Things slowed down for a few minutes then LB picked it up again, forcing the action and taking down 3 or 4 blinds in succession, then backing down from a reraise for a small loss. LB was now 3rd with $36.7k, Rook 6th with $16.2k. Then Rook took a big hit, compliments of Xbad_Co. Let's go to the tape....
VIDEO
Sorry for the poor video quality. I've been pushing for a new field cam for months but my boss is tighter than Dolly Parton in a training bra...Here's a screen shot of the hand:
After the loss to XBad, Rook was babystacked again at $8.7k while LB is still healthy, sitting 3rd with $34.8k. Blinds are now 700/1400 175, avg stack $30.6. Rook then reeled off two preflop all in wins, getting a bit of luck in the first one when he popped from under the gun w/ KJ, got called by Leo's 99, flop came 883, then Rook caught the hook on the turn, and the river 10 sealed the deal for a nice double up. He popped again this time w/ AK from the sb after jim raised from the button w/ AJ, and it held up through a draw of 6T265. Look out kids, Rooks back in business now, going from hind teat to chip leader at $49.4k, while LB is 4th at $29.3k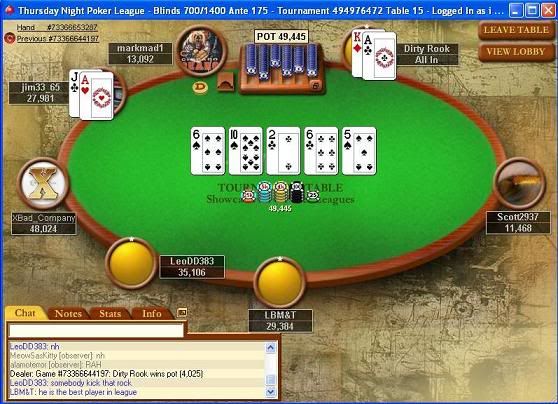 Play slowed down for about 5 minutes, but LB did manage to pick up $10k and this is what it looked like when they went on break at midnight:
LB won a couple hands right after break and pulled ahead of Rook, but Rook said 'not so fast' and won a $10k pot from LB. Lil Buddy said 'not so fast yourself', getting it back and then some the very next hand vs Scott2937. Quite the hand too. I'll let the picture tell the story on this one...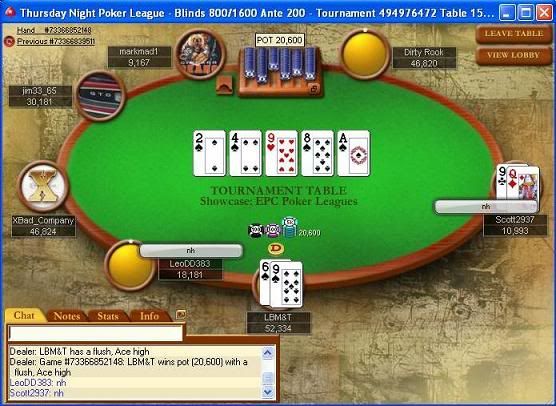 Man, I'm sitting ringside to an epic heavyweight title bout. It seems like there is only one way this can end. The action is fast and furious again and within 10 minutes after break two players have fallen to the rail, Scott2927 finishing 7th (K 10 lost to jims AK) and markmad1 going out 6th. XBad_Company played a big part in both players demise, including sending mark to the rail with QQ and an insult to injury Q river set that wasn't needed, and now sat with a fat stack of about $70k. LB was likely eyeing that stack greedily and quickly took a bite out of it, winning a $25k pot vs the Xer. Rooks turn as he wins a $30k pot from jim and he is now chip leader again at $70k, LB 3rd with $51.7k. Rook then delivered another blow to LB, taking down a $37k pot vs our little buddy. But we all know lil buddy has a big game, and also a lil luck, as he won a huge hand right after the loss with his JQ taking down jims A10 when after a 6QA flop they got all in and LB caught a very fortuitous river Q. One word- Wow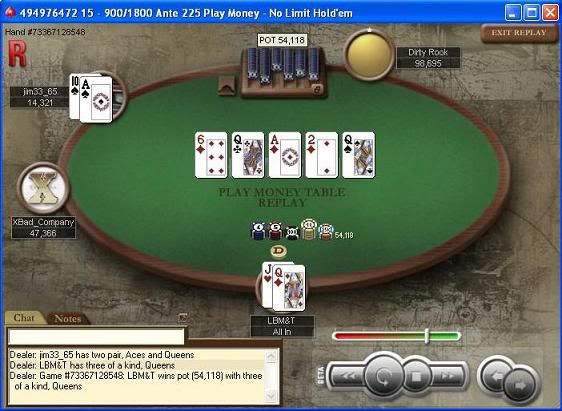 Crazy. We are now 20 minutes past break and the blows keep coming. I know I wasn't the only one on the edge of their seat, as several railbirds were there watching this exciting match with me. And the hits continued, with Rook delivering a nasty double beatdown to jim and Xbad with a flopped quadzilla, sending both to the rail and setting up the inevitable h2h vs LB. Tough way to go, but gg's both to jim and Xbad. The Bad ho might have come out on the wrong side of the draw tonight, but lemme tell ya folks, if I get to choose one player to get my team points in one tournament for all the marbles, I'll take my chances with XBad any day. I'm running out of superlatives....hey let's look at another picture! Here's rooks double rail job...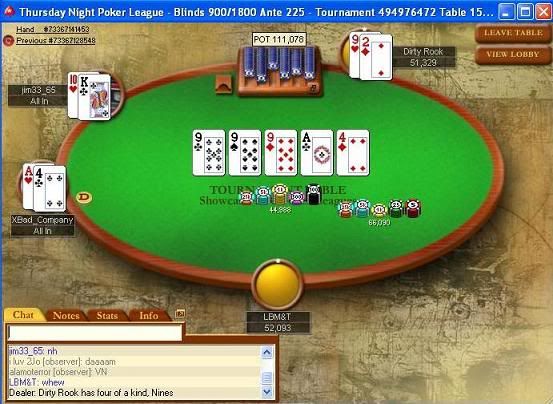 12:22am EST
So here we have it. Dirty Rook and LBM&T h2h, Rook 10 points up on LB for the League scoring title with 5 tournaments to go. We already know they will still be near tied after tonight's tournament, but who will get the win and the lead. There's a 20 point difference between 1st and 2nd, which could end up being the difference for the title. LB has his work cut out for him as Rook now has a monster stack of $162.3k to LB's $52k. Plenty of poker left for LB though, blinds are at 900/1800 Ante 225. If you were expecting a long drawn out h2h as I was, forget it. For 9 minutes these two EPC heavyweights traded blow after blow, hand for hand, neither shrinking away from the challenge. LB fluctuated back and forth + or - $10k, then took a couple beats in a row followed by a nice win to get back it back before the last hand, LB's AQ vs Rooks AK
12:31am EST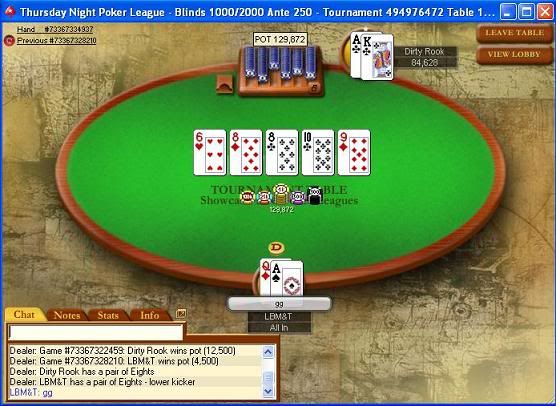 Holy cowbonies, what a game! With five League tournaments left in Season III, here are the standings for the League Scoring Leaders (sorry didn't have time to calculate waiver players, that'll get done at weeks end):
Top 10
Dirty Rook - 1,695
LBM&T - 1,665
SPOILER64 - 1,219
tommydoo - 1,154
JR_RLC - 1,127
XBad_Company - 1,021
OZZY-STL - 887
proftax42 - 852
i luv 2Jo - 747
75 diamonds - 737
For Full Standings and Results go to
www.epcpokerleagues.yolasite.com/scoring-leaders
Ace McCracken until next time, and remember kids....ah crap I forgot.
.
.