.
.

Ace McCracken, EPC AP
www.epcpokerleagues.yolasite.com
Monday Night PL : "By Hook or by Crook or by Hooks"
Hiya folks, Ace McCracken here, Johnny on the spot reporting what's hot. Unfortunately I got sidetracked during my visit to the mb slums and I'm a bit pressed for time, so this might be shorter than originally planned. Shorter, but just as sweet. Saccharin...we got it.
So here's what we were looking at going into last nights EPC Poker Leagues Monday Night PL finale: EPC rookie
Nannook
held the lead with 303 pts, and behind him were no less than 8, count em 8, players within the 100 pt striking distance, and with this list of names-
easydeuce747, LBM&T, jdg800, Big Alzzzz, Dirty Rook, nicedreams4, tommydoo and aamin10
-it appeared that Nannook would definitely need to add to his point total if he wanted to keep that lead. Holy Toledo Martha that's a ton of talent! Not sure if Nannook knew the score going in, I suspect he had a good idea, but lawdy it's not a position I would envy.
Well Nannook has been playing some great poker since his arrival onto the EPC scene, but tonight was not his night as he went out of the 134 person field in 106th place. Hey bud it happens to the best of us, and apparently people like you too. Ha, just kiddin. One of the many things about this bright newcomer to like is his sense of humor. I think we will be hearing and reading plenty more about his poker exploits if we are lucky enough that he hangs around for a while. Nannook ended with a terrific finish in the Monday Night PL League Champ Standings, congrats on a job very well done.
So now we are left wondering who among our murderers row of contenders would make the points and attempt to over come Nannooks precarious lead. aamin10 was the first to fall, at 67th, and was followed by a rapid exodus of sharks from the PL waters as Big Alzzzz (64th), nicedreams4 (58th), jdg800 (53rd), and Monday PL champ LBM&T (45th) all went to the rail in short order. That left an imposing trio consisting of top Rookie of the Year contenders easydeuce747 and tommydoo, plus the infamous Dirty Rook, as the final challengers to Nannooks PL Championship dreams.
It took a while but eventually we got down to 22 players left and 'deuce hanging on by a thread quite shortstacked. This guy has more tricks than Charlie Sheen though and wasn't going down easy. He never does. About to be blinded out he got all in preflop w/ AKo against two people, both with pocket pairs (55 and 66), and after flopping AK for two pair, avoided the set hit and got a very nifty triple up+. He still wasn't in the best shape after the win though, sitting with $3.4k and still well below the avg stack of $9.3k. Then with 20 people left and 'deuce shortstacked at about $2k he got two calls for his A3o preflop all in, by a sb Q6o and 55, and held on for another triple up after flopping the A. But again this still left him very short on chips. Now we have 19 players left and 'deuce works his magic once more, this time his 10 8o bb special beating KJ and A8 by catching the river 10...holy smokes folks this cat has some lives!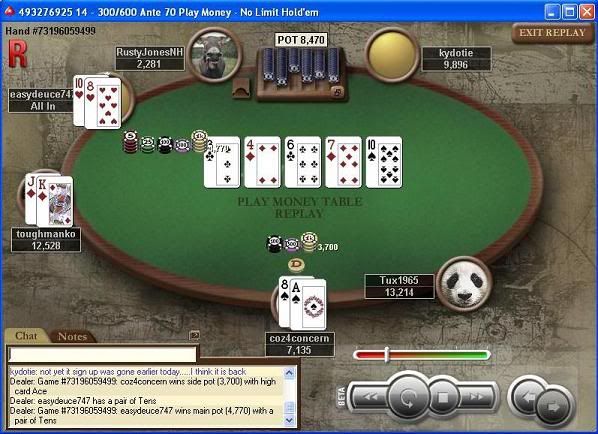 But 'deuce couldn't keep his momentum going like he needed to by winning 2,3 or 4 hands in a row to get off life support, and a couple hands later his 88 preflop all in lost to AK after the flop K held thru the draw. Whew, what a gamer this guy is, another great new addition to EPC and another player we have not heard the last from. Good game 'deuce.
tommydoo and Dirty Rook
. This was epic. And this time I had my calculator fully operational. Rook needs to finish 6th to pass Nannook, but tommydoo is only 10 pts behind him so if he joins Rook in the final 6 it's up for grabs. And of course they both made it that far and what a ride to the final 6 it was...playing the against the field, each other, and oh yeah, Nannooks lead...a little over 1 1/2 hours of play. I wish I had more time to go over all the great play and wild hands, but I'll have to make due with what time I do have and let your imagination do the rest. Not a great proposition for most of you, I know. Awe don't worry there lil chipmunk, I'm not gonna leave ya wandering around aimlessly in the dark. After 'deuces demise the field now numbers
18 players
. tommy strikes immediately taking out two players with his KK....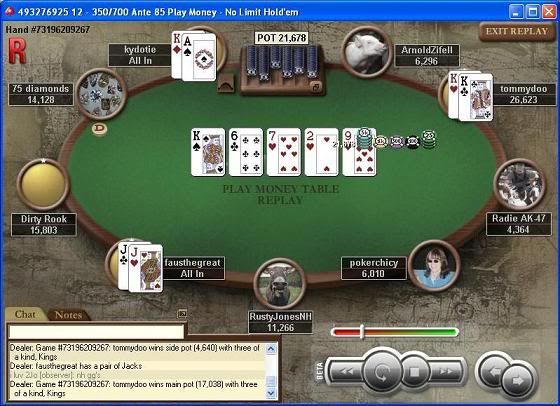 16 players
left now. 10 to go before the magic number. tommy's big hand has given him the lead with $26.6k to Rook's $15.8k. Blinds are $350/$700 Ante $85, Avg stack $11.1k. Play for the next 10 minutes was fairly uneventful, but Rook managed to close the gap a bit, with him at $19.3k and tommy at $24.2. 10-15 more minutes of grinding go by, another player is sent to the rail, bringing the field down to
15 players
, and Rook has pulled ahead, sitting with $22k to tommy's $19k. Basically even.
tommy was having some sort of issue with his internet, or his pc or the game client, we don't really know, but for a while he either couldn't see his cards or couldn't bet or raise. Not entirely sure, bummer tho. A few of us tried to assist him by way of helpful suggestion, but to no avail. But Ace McCracken was on the scene and quickly sent a currier out to notify his PokerStars man on the street that there was a possible issue w/ the game client and of course he delivered, clearing up tommys problem less than 10 minutes later. Hey ya don't get to the top of the news game w/o some Grade A connections kids. Word.

13 players
left and they were still neck and neck, Rook $17k and tommy $18.5k. With
12
left Rook got a very nice 322 flop for his 32 bb xtra special special, and won a huge hand vs Gtsacci after sacci turned a J for his KJ. Oh those Jacks...the ol hooks were far from done.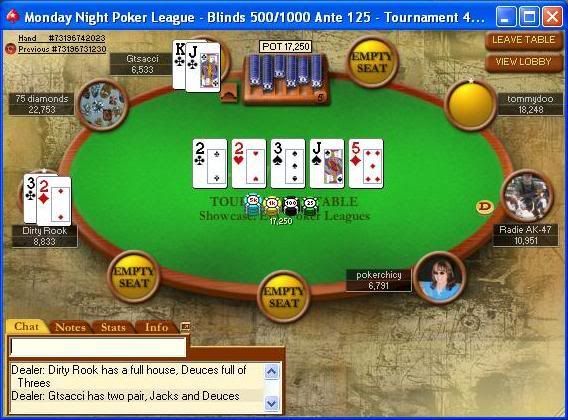 This gave Rook a bit of a lead on tommy, $26k to $18.2k. Then with
11players
left tommy said my turn as he nearly doubled up Brunson styles, with 10 2 against 75 diamonds, the player not the hand. No idea what 75 d had as he elected not to show after the fold. Bahstid. Ace McCracken would love to know what he had there, especially considering the draw (Yeah, Ace McCracken talks in the 3rd person and Ace McCracken don't care what you think about that)....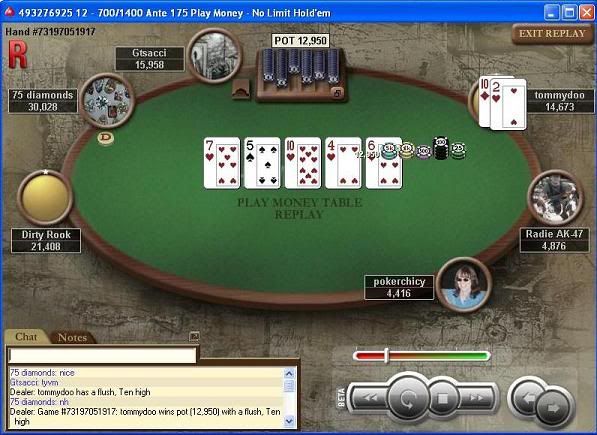 tommy then took a hit right after when his A7 lost to 66 after a flop 7, turn 6. But he got it back the very next hand topping Gtsacci again, this time with AK over 10 10, and with still
11 peeps
left it was Rook $14k, tommy $13.5k, avg stack about $18k. Both held their ground there for a while, a player went to the rail leaving
1 to go for the final table
, and after 5 min or so of play tommy rivered rook and himself to the final table with this beauty vs pokerchicy: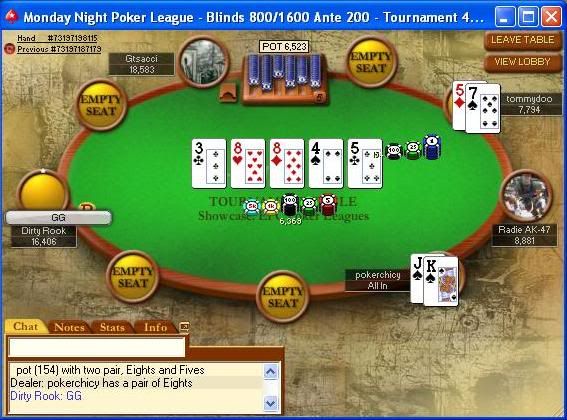 So to the final table we go, Rook and tommy battling each other and the field for the top 6 and the necessary points to pass Nannook. And it would be a well earned top 6 as we had a boatload of badasses for the
final 9
. No big surprise there tho, the cream usually rises to the top and it certainly does at EPC that's fo sho. Check out this lineup:
75 diamonds, WBWootan, RustyJonesNH, Gtsacci, Dirty Rook, tommydoo, CSBarbarian, Tux1965 and Radie AK-47
. Holy canolis. Radie was the first to fall, going out 9th, and with
8 players
left it was Rook $16.5k, tommy $12.6k. Rook won a nice $5k hand, then Tux went out 8th, tommy took a hit and Rook was up $19.9k to $8.6k.
7 players
left. Both have basically clinched the points needed to pass Nannook. What a game!(Actually we thought that at the time but it turned out tommy was still 5 pts short...hey I was working w/ calculator not Deep Blue fer crusts sake)
tommy bounced back to $13k, then Rook won a monster $17k hand, and after a few more hands it was Rook $23.7k tommy $11k, blinds $1000/2000 Ante $250. Then tommy got Gtsacci, again, coming from behind, again, this time with his A6 flopping the 6 to tops sacci's AK.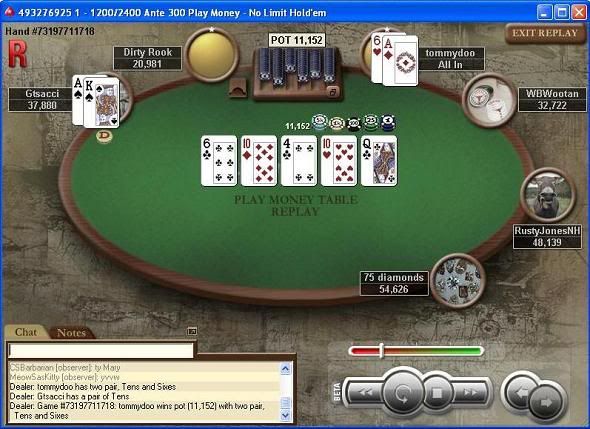 sacci showed no frustration though and bided his time. It was almost as if he knew what was coming...A few hands later it came. Gtsacci raised big preflop, tommydoo calls. The flop came 5h6s2h. sacci mini bet, tommy calls. They say a picture is worth a thousand words, so I reckon this one has to be at least as good as the 40 or 50 I would stumble upon trying to explain the rest of the hand...
The hooks left tommy w/ $52....the fat lady was ready to come on stage. After a neat win w/ K8 vs QQ on the river K I started thinking maybe tommy would pull off the miracle comeback, but the thought was quickly put to rest when the mortally shortstacked tommy was pulled all in again the next hand w/ 10 2 vs LLANO's AK and no Brunson special this time. tommy is yet another strong new player at EPC Poker Leagues, awesome job, especially with the problems you were having w/ your pc, as you noted yourself at the end...
And there we have it folks.
Dirty Rook wins the Monday Night PL Championship
. I have a job interview and I am very late, and besides, what more can I say about Rook? The guy has done nothing but WIN for well over a year now. Hey, maybe I can sit down with him in the near future and discuss the year with him....not a bad idea, no bad at all! Congrats on the win Rook, what a performance, and with you being in contention in a couple other Leagues there's a good chance there will be at least one more in the next few days.
Ace McCracken signing off to go get fired before I even get hired....it's a special skill.
Monday Night PL Top 10
~~~
Final Standings
~~~
Place-Player-Points-Cashes
1) Dirty Rook - 313.34 - 5
2) Nannook - 303.82 - 4
3) easydeuce747 - 302.01 - 7
4) tommydoo - 297.82 - 4
5) LBM&T - 264.1 - 5
6) jdg800 - 237.41 - 3
7) BigAlzzzz - 236.56 - 5
8) nicedreams4 - 231.26 - 3
9) aamin10 - 211.44 - 3
10) CSBarbarian - 195.03 - 3
For full standings, results, and more, go to
www.epcpokerleagues.yolasite.com/league-champs
.
.