As some of you know, TheLangolier, JWK24, and myself are playing a live poker league for a chance to win a WSOP Main Event Seat.
The format of the league is simple:
You play a $50 MTT each week for 9 weeks.
The top 6 weeks of your weekly scores are averaged to determine your rank.
The top 10 players in the league go directly to a 20 person, 2 table final
The 11th thru 60th in league ranks play a semi final for the remaining 10 seats in the finals.
The winner of the finals gets the seat, and 2 thru 10 in the finals will get some small amount of cash (usually around 100$ for 10th and $500 for 2nd).
If you play all 9 events, you get 25 pts added to your average.
If you play 8 of 9, you get 15 pts added to your average.
If you play 7 of 9, you get 5 pts added to your average.
If you do not play at least 6, you cannot qualify for a seat in even the semi finals, regardless of your average.
(Usually between 45 and 55 people play enough to get a seat in the semi's)
As this week past was week 6, I thought I'd post the league rankings as they are released. Here is week 6: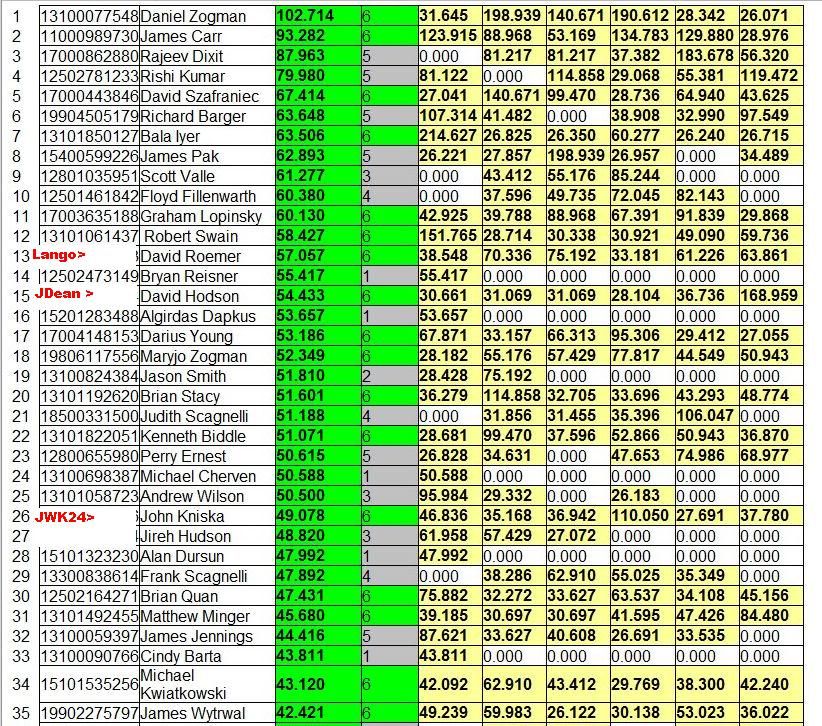 And here is week 7:
I will put week 8 up here when it is out!
-JDean