Introduction
I'll start with a little introduction about myself and my poker, I'm a 19 year old student who loves the game but have had some horrendously bad bankroll management which has resulted in me being a losing player and have a number of leaks in my game which I need to improve to become a constant winning regular. I have decided to start this challenge as if I document my progress I'm less likely to tilt and move up the stakes stupidly. This thread will be used to follow my progress from 5NL Zoom to 100NL Zoom, I will also be playing FPP satellites with my FPP which will also be documented but the main focus will be the NLHE Zoom. I also have a large amount of hours to put into the game over the next month so hopefully I improve my game greatly.
Bankroll Management
I have always had a problem with Bankroll management and tilting so I'm going to play with a VERY strict bankroll management all this year however I will play a few tournament but for these I will use my personal money and deposit so these will not effect bankroll.
As of late on 18/05/2014 this is a picture of my cashier and VIP status: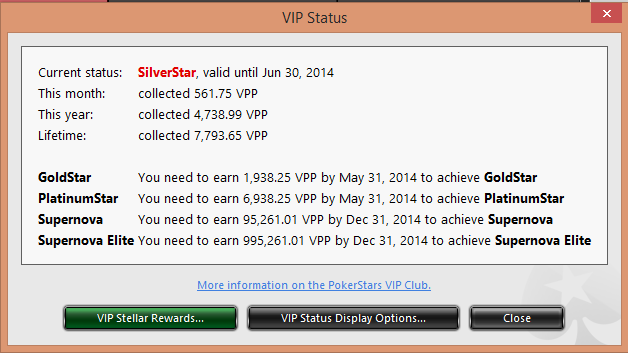 This is my cashier and VPP earned when the challenge has started.
Moving up goals
As for moving up the stakes I'm not sure how I want to work these goals out and will just be moving up adjusting to current bankroll.
Hand Analysis and Finding Leaks
This is something I have never done but want to start doing a lot more and as I play more I will be able to setup some goals for this.
Resources I'm using
I use the HUD Pokertracker and I will be putting a weekly graph up with my weekly results, once in a while I will also be putting a leaks tracked analysis up using Pokertracker LeakTracker software. I will look at my results in leaktracker and see if I think there is anything I really need to improve upon.
I also recently signed up to Cardrunners so I will be watching a lot of their videos in order to improve my play.