As those of you who follow my blog know, I'm a full ring specialist. Most of my poker experience is of FR cash games at 2NL/5NL, but I recently switched to tourneys for the bulk of my play. A rough patch of variance in SnGs has been pretty tilting, so I'm going to take a break from those for a while. I'll no doubt give tourneys another try in the future (I'll be playing in the Premier League in June) but for now I'm going back to cash games.
I've played very little 6-max in the past, but I'm going to try and "release my inner LAG" on the short-handed microstakes tables. I've only played a couple of hundred hands of 2NL 6max on Stars in the last couple of days, so I have no clear idea of the ranges average players are opening, but the games seem pretty wild in comparision to the nit-fest that full ring has become. I'm fairly confident I can adapt and prosper, but it's gonna be baby steps at first. The player pool is so big at 2NL 6-max that it will be a while before I have stats/notes on the regs, but I'm gonna give it a try.
I'm following strict bankroll requirements, beginning with a roll that is well in excess of the 30-35 buy-ins that I'd recommend for beginners. After making a withdrawal today, my account has exactly $100 in it.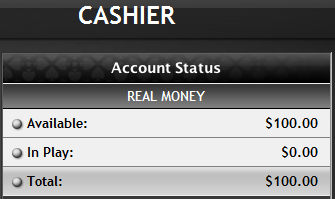 I'm over-rolled for 2NL, as $100 is 50 buy-ins.
I shall play 2NL 6max until I'm either busto (unlikely), I move up (hopefully), or I abandon the challenge and play something else (possibly). There is no time limit for this challenge, as I simply don't know how much playing time I'll have in the next few months, or how easy/tough the games will be. I don't plan to play more than 4 tables at once, so this could be a long hard slog.
Moving up/down
When my roll reaches $150, I'll play 5NL (30 buy-ins), but move back to 2NL if my roll goes down to $125.
When my roll reaches $300, I'll play 10NL (30 BI), but move back to 5NL if my roll goes down to $250.
When my roll reaches $560, I'll play 16NL (35 BI), but move back to 10NL if my roll goes down to $480.
I might actually just stop when I get to $500, if indeed I get that high. For all I know, I might not be able to beat 2NL!
I'll update this thread occasionally when my bankroll reaches particular high points, or I've played X-thousand hands. I'll also post various stats and graphs from my tracker, discuss strategy and replay some "interesting" hands.
I'm starting in a few minutes, so if you play 2NL 6-max on Stars, get out of the way when I raise. I always have aces!