Here's my current funding situation at PokerStars...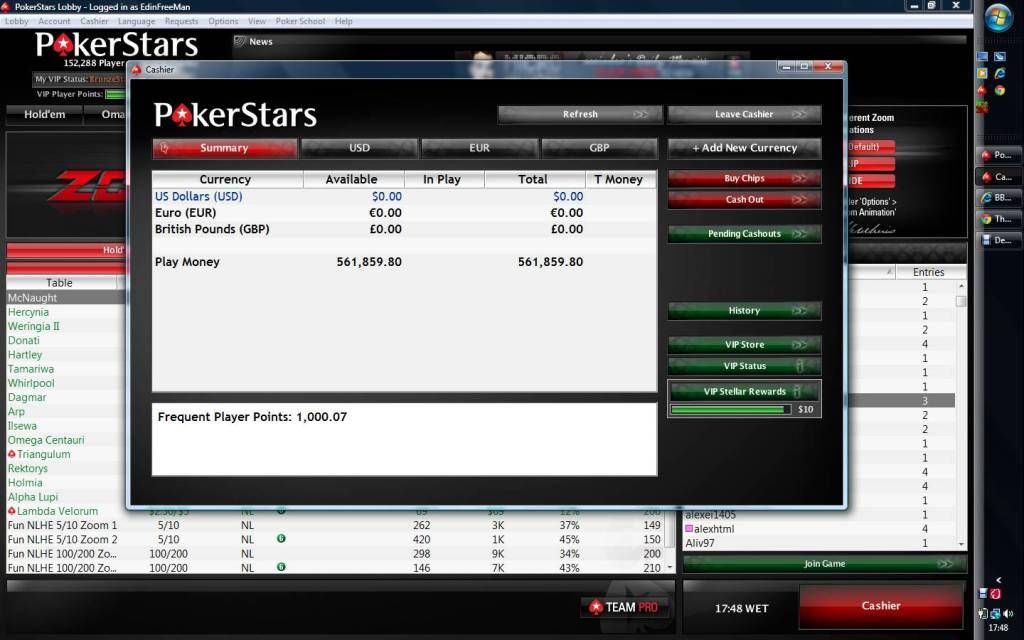 I have
ZERO
real money on PokerStars cashier today, but I do have 1,000FPPs, and there are always the Freerolls and PSO Skill Leagues. So I am in a better position than when I first joined PS/PSO - plus I hope my game has improved since then.
1,000 FPPs can be used by a bronze star player to buy $10 cash from the VIP Club store.
(or I could go for the silver coloured handbag hook for just 875FPPs...)
I am also only 37VPPs short of my next Stellar Reward - so close to another $10 more there.
Essentially I have a nominal bankroll of $20 - but to be comfortable at my usual level of $1.50 STTs, up to $1.00 satellites to the Hot/Big daily tourneys, $1.10-$3.30MTTS, 2NL cash tables and to allow the occasional shot at $5.50 / $8.80 / $11.00 MTTs I want to build a roll of around $100.
I could redeposit, and will do if I feel there is a valuable new promotion I would otherwise miss, but for now I want to see if I can build from scratch.
STAGE 1
Stage 1 will be to use up those 1,000 FPPs playing tourneys and satellites to make cash and T-money - the only real target being to get more value from playing them than the $10 I could cash them in for right now.
I will also be playing freerolls - but no cash buy in games until I have at least $10 in the bank. Then I will set my parameters for building that cash into a reasonable bankroll.
I will try to track my progress here - I won't be playing too much in the rest of July or August, but will be looking to get a lot of play at the tables over the October-March period.
STAGE 1 COMPLETED
24/07/2012
I made over $10, which was the initial target, from 180 FPPs - so the current situation heading into stage 2 is.
FPPs remaining
820.07
Cash
$3.10
T-Money
$13.22
Total Funds
$16.32
STAGE 2
The next target is
$25.00
total funds.
I will continue to play FPP buy in games and Freerolls. The real money cash element will be used at 2NL Full Ring (regular or ZOOM) taking a shortish stack of 50BB or $1 to the table. This will help me earn the 37 VPPs I need to release the next $10 Stellar Reward
I will limit myself to $0.10 MTTs and $0.10 360 player turbo sitngos using the T-money until the target is reached.
If my total funds drop below $10.00 I will restrict myself to FPP tourneys and Freerolls until the $10.00 are back in the cashier.
STAGE 2 COMPLETED 08/08/2012
TOTAL FUNDS $26.03
split fairly evenly between real cash and T-Money.
FPPs Remaining 499.49
I still need 28 more VPPs to release the $10 Stellar reward I could really use for a further bankroll boost, so I will try to play a bit more cash Full Ring to try to release this in August. I will now be able to take a more standard 100BB stack of $2 to the 2NL tables.
I have only used half of my 1,000 FPPs so plenty left to continue playing
STAGE 3 - NEXT TARGET $50.00
Now that I have over $25.00 I will also add any cash buy in MTTs/Satellites/Sitngos up to a buy-in of $0.50. If I drop below $25.00 I will go back to the $0.10 tourneys.
Good luck all
Ed from Edinburgh - EdinFreeMan