Just wanted to do a quick update before going to bed, dreaming about satellites most probably. I played a rather long session today, starting too early really, considering that I wanted to take advantage of the frenzy of last-minute satellite attempts a few hours before the major tournaments started.
By the time the frenzy finally arrived I was quite tired already. I played anyhow, feeling rather good about the first few hours in which I had won another four of my signature $215 Sunday Million satellites, with the last one leading right into the running Sunday Million, unfortunately.
I had hoped for the satellite to finish just before start of the tournament but it took longer than expected due to lots of stalling and the huge number of players. In the end I just surrendered and played the major tournament, doing the best I could.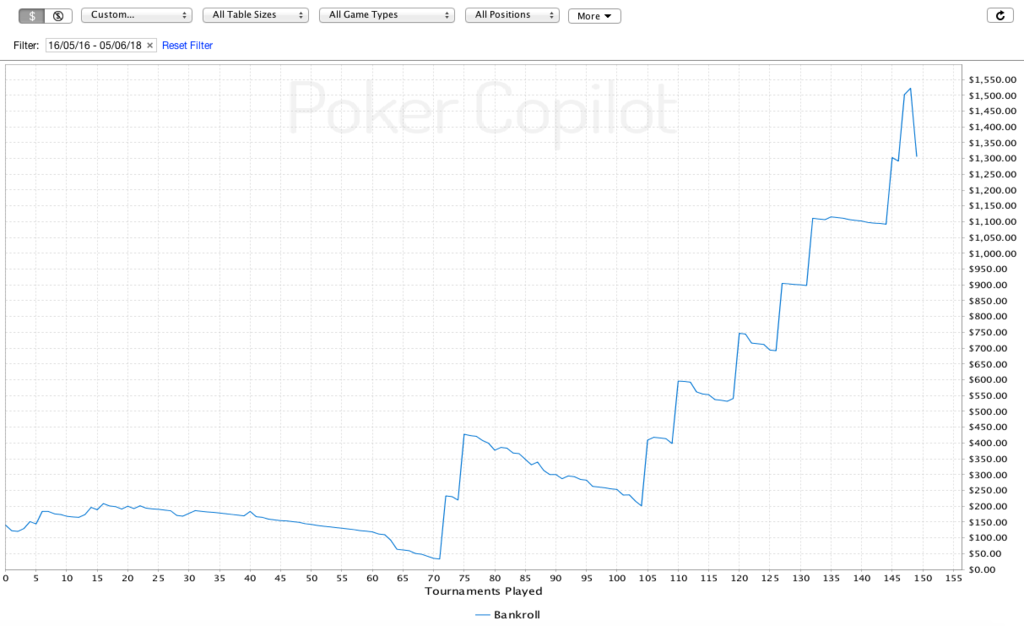 This is my bankroll graph since the start of my challenge on 16 May. That last big spike you see is me winning my Sunday Million ticket, playing and then busting out about two hours into the tournament. It was pretty exciting and I fared rather well considering that I got sucked out on AA and KK twice (yes, I did raise big) and that I'm usually quite nervous sitting on a chipstack worth $215 without being able to cash it out for tournament money.
So, my bankroll now stands proud and tall at $940, about $400 up from yesterday. Counting in the $300 that I cashed out, minus the $185 starting bankroll, this adds up to an incredible total profit of $1055 since the start of my challenge three weeks ago. I've honestly never made that much in less than a month before. I'm so thrilled. And a bit suspicious. It looks almost too good to be true.
Then again, I've also never before been so disciplined, religiously sticking to my bankroll management rules and blocking myself from all of the formats I suck at. Which leaves me with satellites and zoom MTTs up to a buy-in of $5.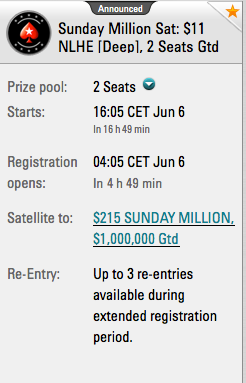 However, given that I'm now shy of an active bankroll of $1000, I have dared to reset my responsible gaming limit to $11 per tournament. It should take effect about 24 hours from now.
I've been itching all along to test the waters of the $11 Sunday Million multiple-entry satellites but wanted to wait for my bankroll to hit the magic $1000 mark before going after them. They look rather innocent but they are rebuys after all, and three re-entries can add up quite quickly if you're not watching.
So once I do (hopefully) hit the $1000 mark I'm going to mix one or two of them into my usual $2.20 rebuys and see how that goes. The buy-in to prize ratio is very attractive. I also like the fact that they are deep. I'm assuming that the level of play will be noticeably better than in the $2.20's, though. So I'll just dip a tiny toe in for a start.
And: I'll make sure to be watching my demons. If I happen to drop back under $900, I will lower the responsible gaming limit to $5 again.
Right now, I'm pretty worn out, though. Gonna call it a day and get some sleep. If you're still running hot and deep in the Sunday Million or Sunday Storm, good for you.
Good luck at the tables and keep me honest, plz!
vano02
***
Challenge summary
Starting bankroll 16/5/2016: $185
Cashed out May: $100
Cashed out June: $200
Active bankroll today: $940
Total profit since start of challenge: $1055