Hello PSO

On March 22nd 2015 a group of PSOers played in the Sunday Billion the big play money game offered by PokerStars. Now I not a play money player as I play for real money daily so this was a bit out of my normal grind but with so many playing and Dave covering it in Live Training I wanted to take part.
So first things first I only had around 200k and needed 1 million to buy in so I had to grind some up or buy some. Well I not have time to grind play money or at least I would like to think I do not :p so I went with option B and looked at buying some play chips.
There be several options to pick from since I only needed 1 million and had a few hundred K I went with the 900k for $4.99 this leave me 100k + for the HGC as the PSO series only time I play with play money.
Ok now I set and ready for the big game on Sunday
I was sure I would be out early as I play very fast early in MTTs with the motto chip up or be on to my next game
This game is 10k stacks with 5 min rounds so deep stack turbo a game I enjoy and with so many of us in you know you want to play good as no one wants to be first on the rail.
There were 17 of us who took part with 9 of us cashing, 933 runners paying 243 spots.
There was a lot going on with so many of us spread out in this game and Dave trying to keep up with the action witch he did very well
For myself I had 3 major hands that help me run deep and all 3 hands were 33 in the hole and all hit sets the crazy part is I was paid off each time for stacks
I finished in 26th for 5.5 million and thanks to FireMedic815 I will add the list below he had added to the thread on this event
TheLangolier finished 721
greenhead49 finished 717
$weetAces finished 675
GeneralKhan finished 568
CHILLI 2 U finished 532
JWK24 finished 436
rocky ricoco finished 373
JakeX finished 288
in the money
BichonPup finished 224 for 1,750,000.00
EasyChips4U finished 212 for 1,980,000.00
manoj35 finished 166 for 2,230,000.00
QueenBee9979 finished 125 for 2,730,000.00
oriholic finished 106 for 2,980,000.00
BUZZLIYEAR finished 80 for 3,480,000.00
FireMedic815 finished 69 for 3,730,000.00
A-FISTFULL finished 56 for 3,980,000.00
TOO2COO finished 26 for 5,500,000.00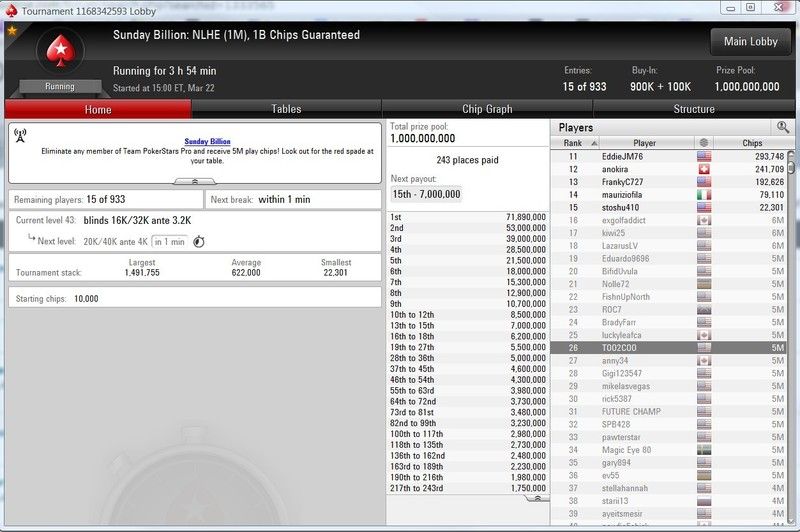 We hope to do this again in the coming months as all who played and railed seem to have a great time

May the Felt stay soft, and the Chips Pile High
Brian