Hi All
Just a quick update on my "returning to MTTs" objective that I decided to concentrate on 3 weeks ago.
(week 1 and 2 are summarized in previous blog entries).
This Weekend was great for my confidence, even though I haven't "binked" a number one spot yet.
I concentrated on only playing MT SnG's (45man, 90man, and 180man) this session - (14th-17th February 2014).
I played 46 of these mutitable SnG's and managed to hit 8 Final Tables
3 FTs for the 45 man tourney - Two 2nd's and a 5th
2 FTs for the 180 man tourney - A 3rd and a 4th
3 FT's for the 90 man tourney - A 3rd, a 6th and a 9th.
I finished ITM in 5 more, but am concentrating on Final Tables in this blog entry and am feeling very good about hitting the Multitable SnG's and leaving the 9 man STT alone during this period.
I don't have any graphs, to show you (I don't use a HUD at this point in time), and my long term objective is to play in the proper MTT tournaments.
I'm using this month as a "refresher" course by playing the Multitable SnG's (for volume and consistancy purposes) - I didn't expect to get a 50% increase to my bankroll from MT SnG's and am really glad to see the numbers and accept the fact that I am not a "work horse" or "grinder" of STTs or MTT SnGs, for that matter.
I play a session of 3 to 4 hours, then take a break for a couple of hours and do another "session".
At most I am multitabling four MT SnG's (all turbos, a few $1 buy ins, but most have been 0.50c buy ins - I'm sticking to my Bankroll Management and want to complete this 1 month "return to MTTs" objective I'm so glad to have started.
In two weeks time I will go through all my results of this "project" and decide on what comes next.
I am really keen to play the larger fields, but I'm just not quite there yet. But I can comfortably see it happening soon.
I also feel a lot calmer playing these MT SnG's compared to the STTs that I spent the last 4 months hammering away at, at $1.50 minimum.
Those 4 months did, however, set a decent "foundation" - I got a live training session from Dave, which was great (and I can now watch it again as it is in the video library - Thx again Dave).
I learned so much about the value of VPPs and whether following the STTs route was +EV or not.
For those 4 months it was +EV, as I managed to get many rewards, plenty T$ from 5FPP Sunday Storm Satellites and my annual "Stellar Reward" and VOLUME.
But now that it is a new year and I have a "path" that is very clear in my mind, I'm not going to be chasing VPPs at this time.
Anyway, I will finish off this entry with my 2014 MT SnG stats (really only the last 3 weeks, but I've included all SnGs both STTs and MTTs as a confidence boost for me.
And just below those stats I'm going to post a nice screenshot that I "grabbed" to "end off" this weekend's session.
You will notice that I was only playing 3 tables, the bottom right table was one that I was viewing and I wanted to include in this weeks update.
I'm just a "toddler" in comparison to that table, but am proud to see this whole MTT "vision" I had way back in 2010 slowly become a reality and wanted to say thank you to the legend playing at that bottom right table - it makes me proud to want to be a successful tournament player, sooner rather than later.
Ok. Cya all next time, thx again to the Sunday Special training this week (Chris and Dave), it was a magic time for the second week in a row.
Here are all my 2014 SnG stats and the "parting shot" to "end-off" this blog with sheer class (bottom right-hand table).

Fourteen 45 man,Turbo 36% ITM ----- 5wins/9 losses
Thirty Three 90 man,Turbo 36% ITM ----- 12wins/21 losses
Twenty nine 180 man,Turbo 31% ITM ----- 9wins/20 losses
Fourteen - $1.50 - 9 man,Hyper 43% ITM ----- 6wins/8 losses
Eighty Five - $1.50 - 9 man,Normal 39% ITM----- 33wins/52 losses
The top three bolded results giving me a 50% boost to my bankroll from 26th January 2014 to today - just had to add that statistic one more time - and will say bye4now..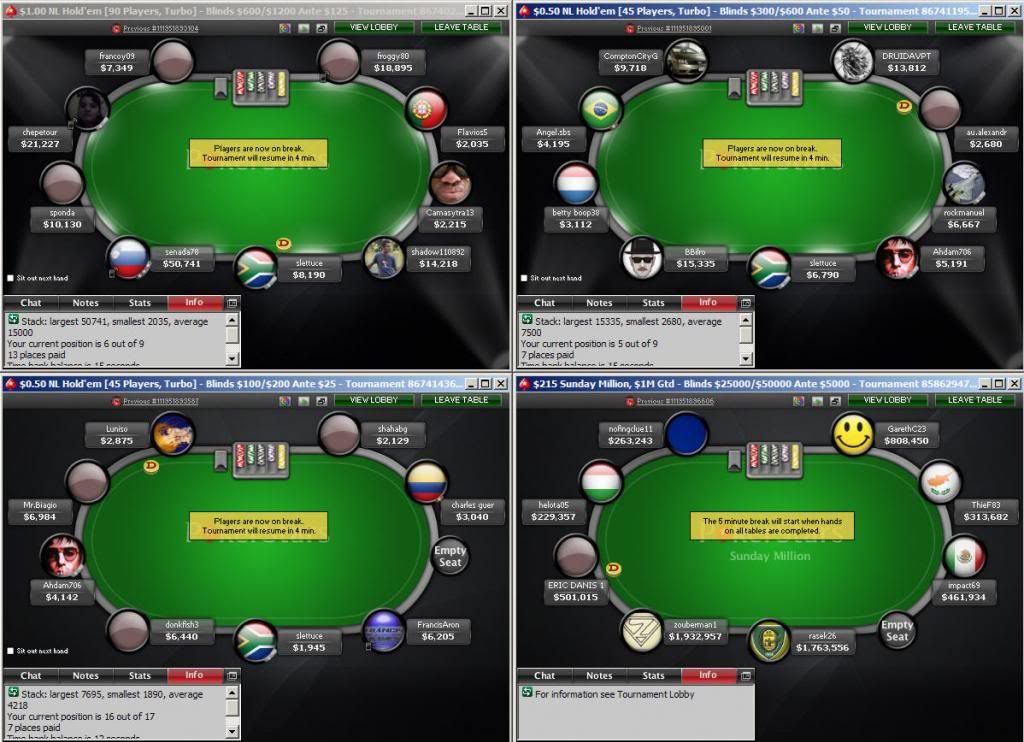 Nice run G, I really enjoyed watching you play and the "one mirrion" you wanted for tonight ...... well, it is only a tourney away.
Thx again for everything you do for us here at PSO.