Hi All
I decided to get back into playing MTTs and MT SnGs (90 man specifically), see blog entry from 18 January for more background info.
I've decided to record my sessions and take stock at the end of the month or when/if I feel I need to "re-assess".
I haven't played any MTT tournaments except freerolls and have been concentrating on the MT SnGs.
THE 45 MAN SnGs - 27th January - 02 February
I played about four 45 man turbos
I got a 7th ($0.20 profit) and a 3rd ($2.84 profit) did not cash in a $0.25c non-turbo and another $0.50 turbo.
THE 90 MAN SnGs - 27 January - 02 February
90 man turbo $0.50 non-cash = $6
90 man turbo $1 non-cash = $2
90 man turbo $0.50 cash = $2.76
90 man turbo $1 cash = $16.99 ( 12th p/out = $1.84 and 2nd p/out = $15.15)
For cheap volume, I've been playing a few $0.10 360 man turbos and $0.50 180 man turbos and even got a 10th place in the $0.02c 990 man (Final table bubble.....lol) - I just wanted to add that even though these tournaments show a small profit, the value is in the volume and really helped me "find my feet" again after a long break from MTTs.
I'm looking forward to playing my favourite format again.
I'll end off this update with a little bit of colour to help "psych" me up when I need a reminder.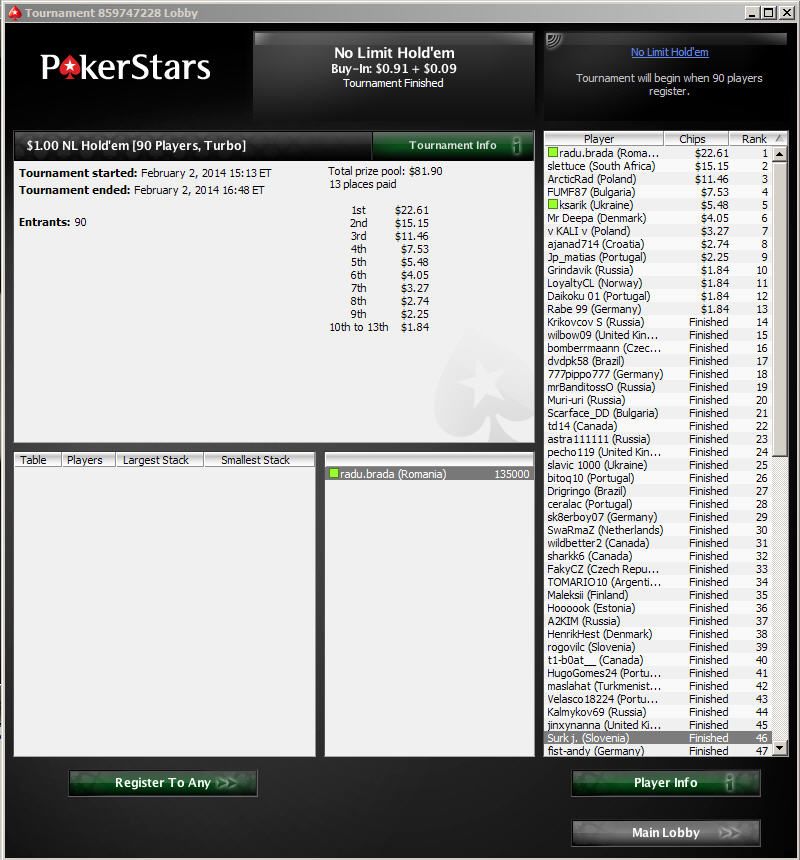 Looking forward to the Big Bang this Saturday, and good luck to all.
Cya next time.
SL