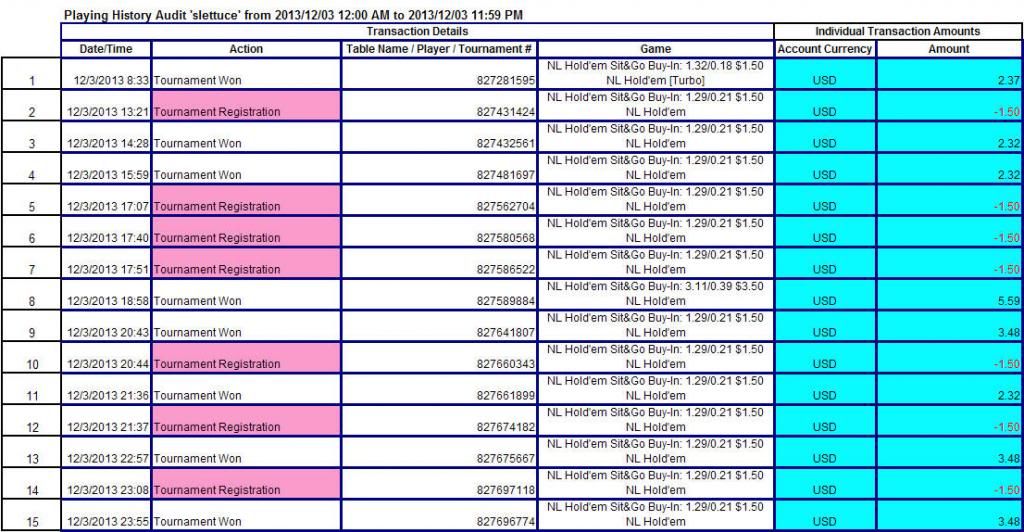 The first one was a turbo and shouldn't be part of this list, so pretend STT number 1 is invisible and there are actually only 14.
Typing the above sentence instead of re-editing pic, playing one more STT to make 15, ummmm nah, my mindset isn't fully fit so I'm just going to leave the turbo thingy there.
STT number 8 was a missclick in the lobby and I didn't even realize it until I posted the above. So just class it as a $1.50 one, cause I didn't even know myself at the time.
This has happened to me 3 times (registering for the $3.50 thinking it was the $1.50).
I won one and finished 3rd in the other two...the win was a nice feeling, but these were all missclicks, so I'm still sticking to the $1.50 and think of those missclicks as "bonuses".
I definitely made a few wrong decisions in the above list which cost me at least one STT. (I think I made about 3 bad decisions, but that is 3 too many).
It definitely was due to fatigue, so at least I can go back and see what happens when you don't make the right decisions and the reasons why you make the wrong ones.
Hopefully this will help me from repeating those errors and this is exactly the reason why I decided to post these two "sessions" in a blog.
I'm going to have a good rest and maybe watch a few episodes of Homeland and Supernatural later on today.
Going to give the poker and myself a well deserved rest.
See you guys later on at Dave's Live Training Session (Carnival Finale!) - Thursday night.
Yes, I will wake up at 3am to watch and learn (20h00 ET), it looks like it's going to be a good one for all MTT'ers so don't miss out.
Goodnight guys and thanks for reading.
SL