The sun is rising above the distant desert hills bathing the hotel facades of Bellagio and Caesar's Palace in a warm and bright light. I am standing on top of the Flamingo's parking deck watching my very last Vegas sunset of this trip with mixed feelings. Of course I am always sad when leaving this town but at the same time I am happy to return home, and I am especially happy about how this trip went for me.
I managed to stay healthy, to maintain a motivated mindset and to even run a lot hotter than the rather cold February Vegas sun. That is a lot more than I could have asked for when I started out last week. Ending this trip on such a good note is even more important to me as my last trip was such a disaster healthwise. It puts Vegas back into the place that it always had in my heart. This town gives and takes just like a single poker session - and in the end It's all about how you handle what it deals you.
I take a sip of my early morning coffee, get into my car, take one last picture of the rising sun and head towards Wholefoods for my last Vegas breakfast.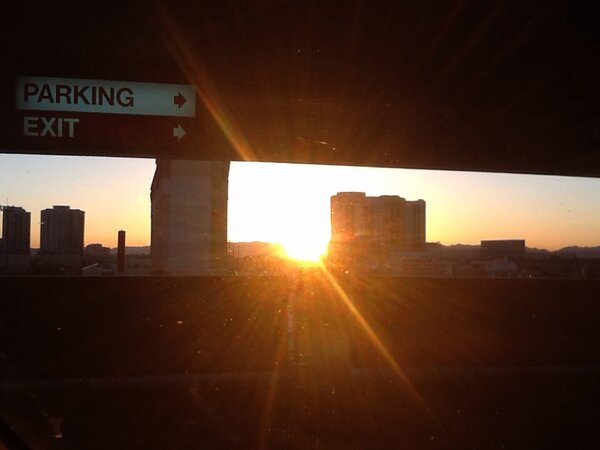 At the beginning of the second week my buddy and I managed to get a cheap upgrade to a GO room at the Flamingo for only $10/night. The GO rooms are so much nicer and we happened to get a stripview heading directly towads Fountains of Bellagio. Boy I can tell you, we fought hard over that bed near the window - and in the end we agreed on switching beds every other night.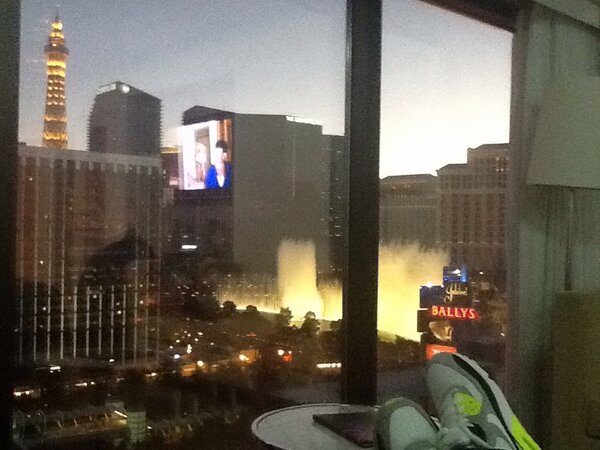 Pokerwise I ended up playing most of my sessions at the B or at the Wynn. I tried to mix in some play at Caesars whenever I saw that 1 or more 2/5 games were running because of the WSOP Circuit events. Those games were great since they attracted a lot of tourney players. In my epxerience those are usually the types that get too impatient in cashgames and have their ego get in ther way a lot - and I have to admit it would be the same thing with me whenever you put me into a tournament. I just feel like I have the license to spew.
There was one particular hand against a young, rather competent tournament grinder that probably illustrates what I mean pretty well - and happened to be the biggest pot I played for on my trip:
With effective stacks of about $650 that player isolated a limper from EP to $30 and I found black Kings making it $100 straight in position on him. Everybody else folded, he went into the tank, then put out 3 black chips and a green one making it $325. That sizing was really huge given effective stacksizes so I was pretty confident that I held the best hand and he would almost never use such a size with Aces. I tanked a little for myself and then went all-in. When he shrugged and tanked again I was pretty relieved. Now I tried to figure out how to best utilize that situation to my advantage. In case he had Ax he would have laid himself the correct odds to call, in case he had a pair he wouldn't.
Either way I thought that trying to talk him into making the call would be a good idea so I said:
"Dude, I am such a nit, just fold it. There's no shame in folding, I am giving you an easy exit on this one. Why pay off the biggest nit at the table?"
He then came to the conclusion I might have AK and made the call. Once our stacks were in there the dealer started putting out some gross cards for my hand:
......*gulp*
......*really?*
...... *tenball one time pls*
...brick
...brick
... I table my kings in awe and expect to be beat, but he throws his cards into the muck asking for another king that would have made his tens a straight.
In 2/5 games you sometimes see regulars use green $25 chips but not too many black chips. Needless to say I now was the new proud owner of my biggest and most colorful stack of the trip: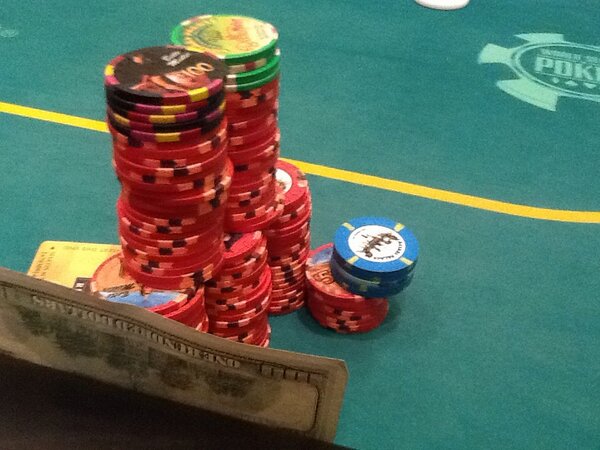 I am now sitting at McCarran waiting for my flight back home looking back on a great trip. Let's see how soon this town is going to get hold of me again.
Hope you guys enjoyed reading. See you in class next week!
- Felix