It couldn't have been a more ordinary Wednesday afternoon.
Rain is pouring outside my window and I have 9 tables beeping to remind me of action. The only thing that is helping me fight my little winter depression is the country channel. Suddenly I notice that red facebook message (1) from the corner of my eyes.
"Vacation approved, let's book Vegas!"
I had already given up on the thought of flying over to Vegas for a solotrip. Even though I felt like rewarding me for a successful January all signs actually disapproved of this plan:
My soon-to-be Vegas roommate Yaki hadn't contacted me for a few days so I had to assume he wouldn't be able to leave work. My inflamed tooth had been causing trouble during the last few weeks. The flights I could find online all had several drawbacks like bad pricing, long travel times, bad connections. There was news about a rough winter climate and short daylight hours from buddys of mine who had recently been to Vegas - the list of arguments against going was long.
And then everything came so fast and just naturally. I quickly browsed flight prices and finally landed on the British Airways page to book a neat and cheap flight from Düsseldorf to Vegas via London-Heathrow...and here we go again!
BA flights are absolutely fine, they got good inflight entertainment with a monitor in your seat, good service and decent food even though it is British
. The only drawback is the 3-seat rows with barely enough room for your legs. But as I stated every airline has certain advantages and drawbacks - you just have to focus on what's most relevant to you personally.
We proceeded to book the Flamingo for $50/night ($25 each), figuring that the location in the center of the Strip would be optimal for our grind. Having Bellagio, Caesar's Palace or Planet Hollywood in walking distance is such a nice bonus because those are the places I want to grind at most of the time anyway. A buddy of mine told me to log into my Total Rewards account and see if I could get any cheaper rates or even comped nights at the Flamingo - but despite having a few points on the card they didn't offer me anything like that. I will probably have to spend some change in the pits if I want to see that happen more often in the future.
Here's a youtube vid of what our room might look like:
[youtube link="http://www.youtube.com/watch?v=_DQGJeJWoTM"]
Since I arrive on the 6th and Yaki comes to town on the 8th I need to spend two nights on my own. Coudn't get any decent rates at locations that I liked and as I wanted to make these two nights as cheap as possible I just went ahead and booked The Quad for $18/night. I've stayed at the Quad before and I am fine with doing it again for just 2 nights. After all I will be spending most of my time at the tables or at Wholefoods anyways.
I also booked a rental car for the 12-day-trip. It just pays off huge to not be in need for taxis when coming from or going to the airport, switching casinos, going shopping or doing other stuff like hiking in Red Rock Canyon etc. I just love being flexible like that.
All I need to do now is get packed up and not forget to bring the most important stuff that I retreived from my safe deposit box a few days ago: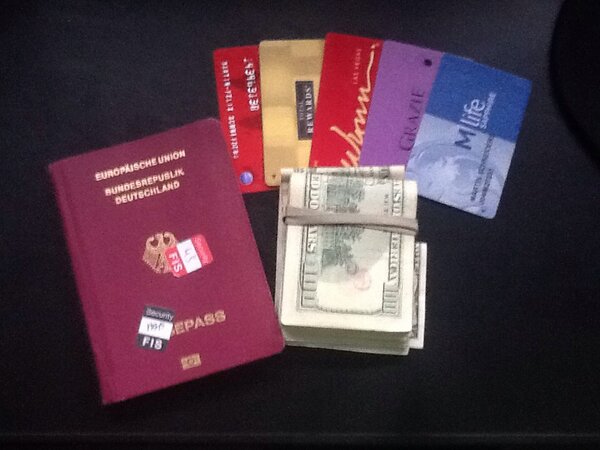 Each fresh Vegas trip is just like a single online poker session to me - I never know if I will come out a winner or not. Live Poker and sample size are just two terms that don't fit particularly well together. I have been on about 10 Vegas trips by now, finished 6 in the green and 4 in the red. Like always in poker what counts after all is your bottom line.
I have finished my January grind successfully beating 100NL 6-max for a decent winrate. Hence I see this trip as a little reward for my efforts by relocating my February grind to a place where the sun hopefully embraces me more than it currently does here at my hometown.
Despite the negative experiences from my last trip (had to cancel 1 week into the trip due to medical reasons) I am looking ahead to see what this city has in mind for me next. Even if it's just another lesson in patience and humility - it will most definitely be worth the travel.
If you want to follow my progress in Vegas feel free to add me on Facebook or Twitter since I always post pics and short updates there.
Until next week & thanks for reading.
- Flix