The good professor wanted a summary of my poker year; highs, lows and what I have learnt. So I'll do five of each:

The Highs
Deep run in UKIPT Edinburgh in January. So got one goal (cash live 1k) done early. Played one hand with the winner Nicolau Villa-Lobos, since then he went on to win a SCOOP and just miss out on a WSOPE High Roller bracelet.

Qualifying for WSOP. Another goal ticked off. Vegas was once again awesome. Poker-wise the bracelet event was not the table I wanted, Shannon Shorr, Nick Abou-Risk and one empty seat until it was possessed by the latest bracelet winner
Ran QQ into KK so will have to wait for a bracelet. Made up for it a bit by cashing the bounty event.
Here's a fishy table!

Went to Prague, enjoyed Prague, cashed the tourney I played. Had a load of chips, but it played like a turbo, the bubble took so long that in hindsight should have carried on building a stack, but good to get another Hendon Mob Flag – not that it ever appeared

Shared an elevator with Kara Scott – nothing else that good happened at the Party Poker tournament at Old Trafford.

Profited in latest MicroMillions and therefore was able to donate nearly $100 to Haiyan Relief Fund. Which Stars of course kindly doubled.

The Lows
Am still a little haunted by the tourney in January where I came into day 2 with second largest stack and then got decimated calling off a 226 flop with JJ versus some silly Scandi who shipped Q9o.

The Big Bang is a nice freeroll, I don't know which was my worst moment, losing heads up to a random Russian microstaker or going out (unfortunately) on the very first hand a couple of months later.

The Runbad raptor was coined in July – cash game results were majorly below EV – bad variance = no fun.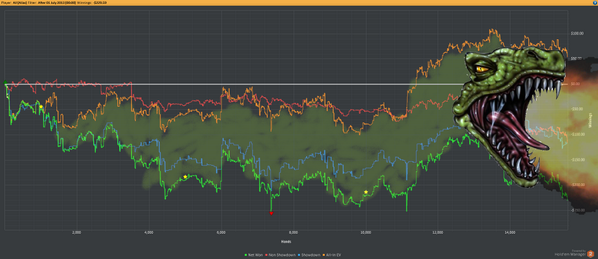 Doomcember, thus far December has been worst month on record, I shouldn't have complained about missing out on final tables in November and probably shouldn't have jumped in some fish filled 100NL games (or run better).
And finally any plans that I was going to make more money from cash games in 2013 did not come to fruition!

What I learnt
Table selection is really important, I used to avoid the Sunday Storm, Bigger 11 and small MicroMillions as a decent hourly is hard to achieve, but when you multitable that doesn't matter. It is easier to make money versus bad players. Same goes for cash games.

Early in the year I was guilty of being disappointed if I busted very early, close to the bubble or second in a tourney. I think that is understandable, but over the long term you need to win tourneys or at least get close, getting to the last few tables but not final tabling is the worst. It also implies if you start a tourney you should be planning on winning it 12 hours later.

I got lucky to win a coaching session with Andre Coimbra, there's a video and several blogs on it around here somewhere. It was really good and really stressed the importance of ranging precisely and doing it quickly. Later in the year I had 10% of Ike in UKIPT Isle of Man, but Ike being Ike shipped it with 32s
I could have picked a load of different videos that I have watched this year, but think I will go with some Galfond advice as priceless: "Auto-piloting is one of the most serious and most prevalent forms of tilt, and most people don't realize there's anything wrong. Think through every decision, and be careful about declaring any play 'standard.'"

PSO training is understandably excellent value. I like how Dave's training often reassures that I do know what I should be doing. Love Frosty's when the training tool works for him
and also like Gareth's even though it sometimes hurts my head. Nothing better than predicting when SickoG is gonna put in a raise
So yeah, that was the highs, lows and learning, I am hoping to head for poker in Spain in the next couple of days and that a miracle occurs ticking off three more goals
Otherwise it has been a mixed year, but one that has had a lot of help and support from a lot of people at PSO.