Hi everyone, I can't believe we're just 2 weeks away from the end of 2013 & the end of my Time Vault challenge! As you'll see soon, it's all gone by a little too quickly for me...
In this blog I'm going to be taking a look at the goals I set for myself at the start of the year & summarizing how things have gone for me.
1) BUILD MY BANKROLL FROM $250 to $2500
I've been playing poker for over 10 years now & up until the start of my challenge I'd never managed my bankroll correctly. I'd frequently make small deposits & lose it in a matter of days. In the unlikely event of me making a decent amount of money I'd withdraw it straight away. I studied bankroll management through PSO at the end of last year & I'm really happy that I decided to use this Time Vault challenge to put the things I'd learnt into practice. Throughout this year I haven't once played a game of poker that was beyond my bankroll & I think the skills I've learnt are going to be really important for my future in poker.
If anything I'm now too nitty with my bankroll. At the start of the year I'd set myself some bankroll targets & with each target reached I would increase the stakes of the games I'm playing. I had to abandon these plans in the middle of year as moving up the stakes proved to me more difficult that I'd hoped. It seems obvious that playing higher stakes is going to be tougher the level of the opposition is generally going to be higher. However, looking back at my year & considering the stats & graphs available to me in Hold'em Manager 2 I think variance has had a big part to play too.
Take a look at my graph for the lower stakes cash poker (5NL Zoom) played on Pokerstars: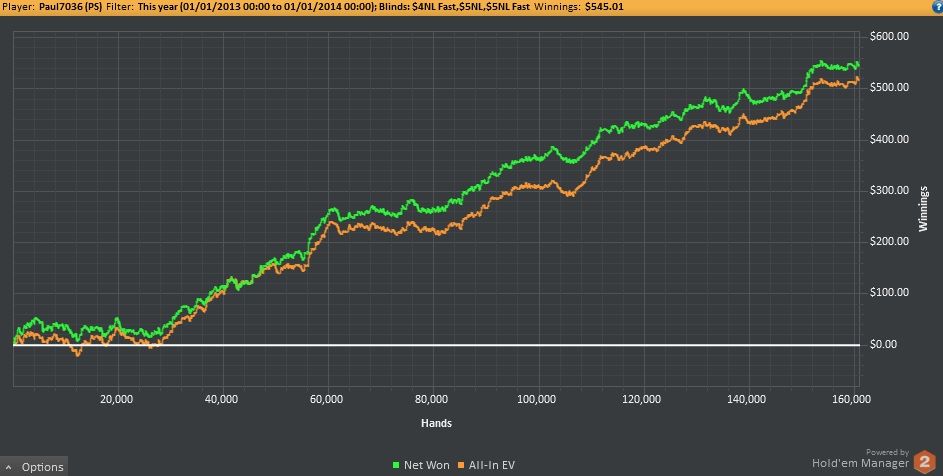 It was a slow start but that can be expected as back in January I was still learning how to play profitable poker, even at these lower stakes. All the cash poker training I worked on at the start of the year clearly worked nicely as the rest of year showed consistantly positive results. It went pretty smoothly really & I finished $25 above EV which is nice
I think my overall rate is a little low though, working out at around 6.8bb/100 hands. I think more training is needed & maybe it could be worth trying out some 6max Zoom in 2014 which could work to get the rate a little higher.
Now, take a look at what happened over the whole year at 10NL Zoom on Pokerstars:
A completely different story with me recording an overall loss of $18.58. This is for 3 reasons:
1. Better opposition
2. Worse, less confident play from me
3. Consistantly bad luck
I finished $104.29 below EV, a really huge amount over quite a small sample of hands & I think this played a big part in my lack of confidence & my struggle with making a permanent move to 10NL Zoom.
For those of you who are unfamiliar with the graphs I've posted & are struggling to understand them this little diagram should clear things up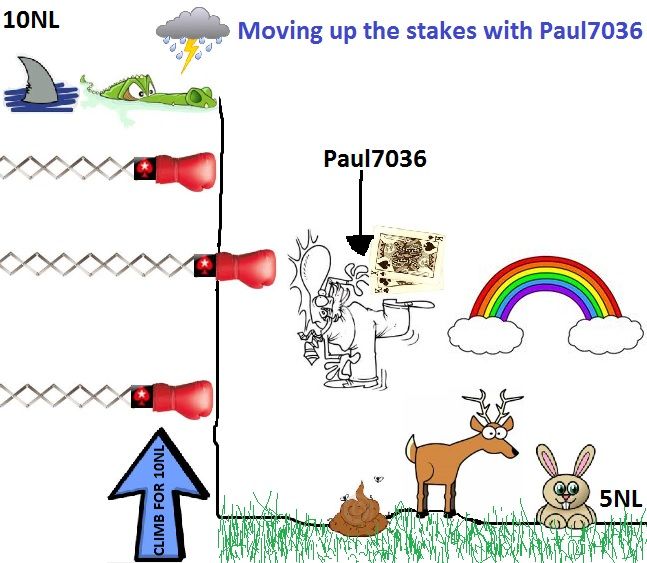 To be honest though, the graphs don't tell the full story as they exclude my play on Full Tilt poker where I had a few positive sessions of 6max 10NL Rush where luck was on my side.
I've made a good overall profit in cash games but it's Multi Table Tournaments that's been the biggest winner for me over the year. I'm really happy to be able to say that I've recorded a profit in MTTs in every single month of 2013. Unfortunately there haven't been any big wins for me though. Perhaps my best moment of the year came in October when I qualified for the $109 800 Million Carnival tourney for just $1.91 & converted that into a $324.52 cash.
I started the year well in Sit & Go's too but I've really struggled with them recently. Perhaps concentrating my training on Cash poker & MTTs has something to do with it.
So, where has all this left my overall bankroll? Well, I'm not going to go into too much detail right now, I'll save that for my final Time Vault blog at the end of the year, but my bankroll currently stands at $2040 which means I've made $1790 profit so far this year but still need to make a further $460 to make my overall target. That's probably not going to happen & I'm not going to try & force things by playing outside my bankroll. I just wish I had a couple more months to get there...
2) SPEND AT LEAST 2 HOURS PER WEEK TRAINING TO IMPROVE MY GAME
Even if I don't make my bankroll target I'm still really happy with how things have gone for me this year. It feels great to finally be a consistantly profitable poker player after struggling for so long in the past. I have PSO to thank for that for all the great videos, live training sessions & other resources that have been so useful for me since I joined in May 2012.
To be honest, I may have fell a little sort of my 2hr a week target but I'm still happy with the things I've learnt & how I've been able to apply those things to my game. I'm now playing more agressive & more solid poker & I've learn more about how to play different relative stack sizes in tournaments more effectively. Wether or not I set myself a similar challenge in 2014, I'll still be looking to train hard & improve my game further.
3) LOOK FOR LEAKS IN MY OWN GAME
At the start of the year I was doing ok with this, particularly by using Hold'em Manager 2 to look over the more important hands I'd played to see where I'd gone wrong (or right). In the second half of the year I've let this slip a little & it's really something I need to work more on in 2014. I also haven't been regularly posting hands up on the forum. Perhaps I should make use of the Hand Analysis section of the PSO forum in 2014.
4) TAKE REGULAR BREAKS
I've definitely acheived this goal. I've been able to find time for my partner & I've continued with my interests outside poker, including getting out hiking at last twice a month throughout the year. I've got some big plans for 2014 too including the Welsh 15 Peaks challenge in early June(over 30 miles with the highest 15 mountains in Wales in 1 day), the Tranter's Round in late June (18 Scottish munros in a single trip) & the Lakeland 50 in July (50 miles in 24 hours in the English Lake District).
Obviously all of this requires a lot of training too so I'm going to have a lot less time to play poker in 2014.
5) EARN 5000VPPs
As expected, I got off to a slow start but soon got things moving along more quickly by increasing the number of tables I was playing (from 1 to 2 tables of Zoom & from 2 to 4 tourney tables). I made my target of 5000VPPs on December 1st & have claimed my nice $50 bonus
I've been enjoying the benefits of being Silvestar too, including playing the Weekly 30K 100FPP tourney on a regular basis. Here's how things look right now: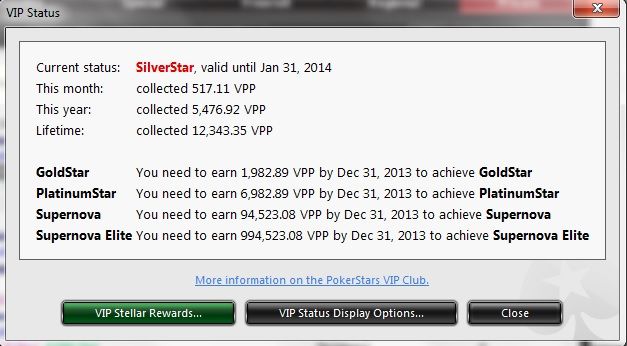 6) IMPROVE MY LIVE GAME
Although I haven't had any spectacular results I'm a lot happier with my live game. I'm playing far more confidently & I'm now able to take my effective online poker play onto the felt.
Although I haven't fully achieved all of my goals The collective aim of them all was to improve my overall poker game & become a consistantly profitable poker player. I'm really happy that I've been able to do that in 2013 & hopefully I can continue to build on that & improve further in the future.
Thanks for reading