Hi all, time for a quick Time Vault challenge update. August was by far the worst month of the year for me so far. I started out with the intention of spending most of the month on the 18man Turbo S&G challenge I'd set myself but I had to quickly give that up after finding myself over $30 down after a run of 18 $1.50 S&Gs without a cash. Luck really wasn't with me but my play was poor too. I came to the conclusion that this sort of challenge - forcing myself to play a high volume of the same game isn't good for me. I play my best when in the mood the play & when I'm playing the games I want to so that's what I'll be doing from now on.
After a decent start on the Zoom tables (playing both 5NL & 10NL) things quickly went downhill there too & I finished the month down $11.47 in Hold'em. However, the $10.46 I won playing 2NL PL Omaha Zoom almost made up for it
I can also take a little consolation from the fact that my All-in EV (orange line) ended at +$20 which means, although my play wasn't up to scratch this month, I would have finished in profit if luck had evened itself out in All-in situations.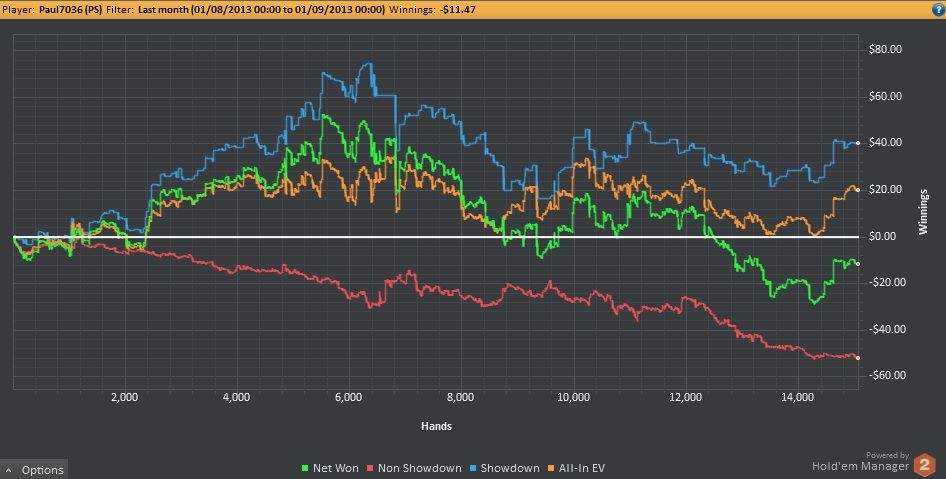 Some stats:
5NL NLH Zoom: +$33.98 (6,233 hands = +10.9bb/100hands)
10NL NLH Zoom: -$45.45 (8,822 hands = -5.15bb/100hands)
2NL PLO Zoom: +$10.46 (approx 1200 hands but no data as can't use HM2 for Omaha...)
From those stats it's clear to see that 10NL Zoom isn't working for me. From now & until the end of the year I'll be playing 5NL NLH Zoom only, along with some 2NL Omaha Zoom when I feel like it. I'm going to have to train a lot more before attempting 10NL Zoom again.
August Summary:
START BANKROLL: $1130.61
Cash: -$1.01
S&G: -$34.74
MTT: +$1.34
Bonus: +$20.00
TOTAL: -$14.41
END BANKROLL: $1116.20
JAN: +$106.53
FEB: +$193.12
MAR: +$92.90
APR: +$127.03
MAY: +$129.43
JUN: +$182.28
JUL: +$49.32
AUG: -$14.41
When totalling things up I was really surprised that I'd lost so little this month, it really seemed a lot worse...
The last 2 months have been the worst so far so at this point it's definitely time to take a good luck at my game, work out what's going wrong & try to get things moving in the right direction. As well as taking more training I have decided to forget about all the bankroll targets/plans set out at the start. Moving up the stakes just isn't working for me so I need to stick at what I'm good at. I've been consistantly profitable at 5NL Zoom all year so that's got to be my main game but my overall target bankroll of $2500 is completely out of reach unless I can get some good results in MTT's so I'll play plenty of those too. The MTTs will include the regular Saturday VIP freerolls & the PSO Premier League Qualifiers.
Time to get back on the tables as I have a very busy Saturday night ahead of me
Until next time...
Paul7036