As we're now half way through our Time Vault challenges I thought I'd go back & take a look at my original goals & how things have gone for me so far.
1) BUILD MY BANKROLL FROM $250 to $2500
My consistant results continued in June & I once again made a profit in all formats of poker (S&G, MTT & Cash) for the 6th successive month. Here's my Cash graph for the month: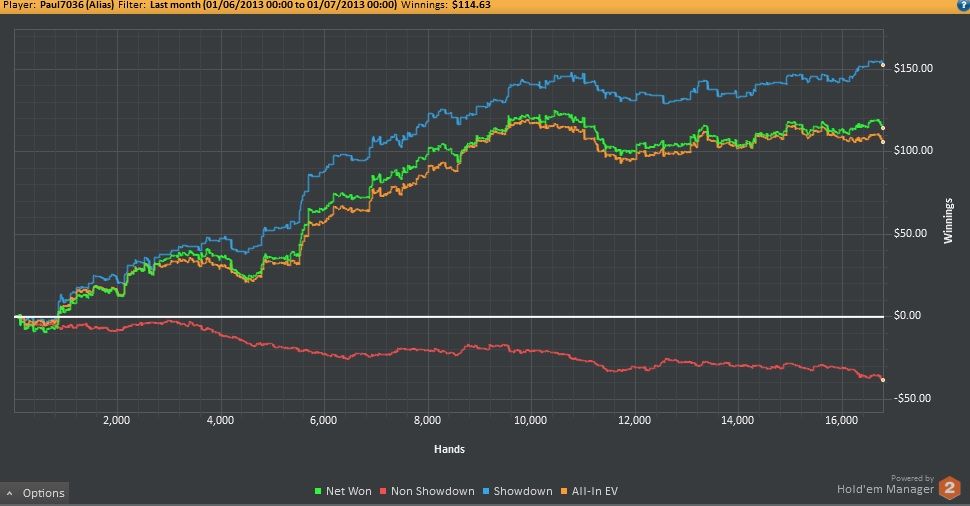 It was a fanatstic start which saw me race to $120 profit after just 10,000 hands at a rate of 24bb/100hands. I then hit a bad spell at the start of Zoom & Boom week & struggled to recover for the rest of the month, finishing on $114.63 profit. I did, however, make $25 extra for Zooming & Booming winning hands with black kings so that week turned out to be profitable after all.
I played a bunch of S&G's during Golden S&G week but missed out on the golden tables & won just $9.14 for the month. I didn't have a great month in MTT's either, making just $18.51 with the highlight being runner up in a PSOSOP event. I didn't manage to make the prizes in the PSO Premier League but scraped into the top 800 at the last minute for another shot in July.
Bankroll update for June:
START BANKROLL: $899.01
Cash: $114.63 profit
S&G: $9.14 profit
MTT: $18.51 profit
Bonus: $40 profit ($10 Stellar Reward, $25 Zoom & Boom, $5 Full Tilt bonus)
END BANKROLL: $1081.29
JAN: +$106.53
FEB: +$193.12
MAR: +$92.90
APR: +$127.03
MAY: +$129.43
JUN: +$182.28
My second best month so far. However, that's a total profit of $831.29 in the first 6 months so if I continue at the same rate I'll finish my challenge on $1912.58, some way short of my $2500 target.
I think I've been unable to increase my win rate due to struggling to move up the stakes. At the start of the year I made myself a set plan for moving up the stakes (SEE FIRST BLOG) based on my bankroll but I really haven't stuck to it. For example, having just passed $1000 the games I'd planned to play were:
LEVEL 4
10NL Zoom (now 2-tabelling 5NL)
$3.50/$7 S&G's (still haven't played a single $7 S&G)
$2.50/$8 Turbo 180man S&G (haven't played any $8 180 mans)
$4.50 180man S&G (or any of these)
MTT's $2.20 to $11 (still playing stakes lower than $2.20 & rarely above)
Satellites up to $5.50
PSO Premier Skill League (if still in it)
FPP SatellitesTARGET 4 - $1500 (move to L5) back to L3 at $850
So, I'm going to have to abandon that part of my plan & just look at moving up the stakes gradually in my own time. If moving up doesn't work out I'll just have to ship a large field MTT to get me past the $2500 mark instead
2) SPEND AT LEAST 2 HOURS PER WEEK TRAINING TO IMPROVE MY GAME
Well, I've read some poker books & watched quite a few videos on PSO but I think I could have done better with this goal. I want to watch more videos & attend more live training sessions in the second half of year. Acheiving that will surely help me with my move up the stakes.
3) LOOK FOR LEAKS IN MY OWN GAME
I'm happy to have have sorted out my lack of 'folding when I'm behind skills' which I identified as my biggest leak at the start of the year. The MTT training I've completed has also really helped me & I now have a much better understanding of playing around the bubble, in the money & adapting my play to different stack sizes. However, for the rest of the year I want to be posting more hands on my challenge thread as the comments I get from them are always helpful.
4) TAKE REGULAR BREAKS
This is going nicely. I've had a poker-free holiday (another to come in August) & I'm getting out with my partner & going hiking in the hills more often.
5) EARN 5000VPPs
I'm slightly behind with this having made 2381VPPs in the first 6 months. I'm confident that I can earn the rest (2619 more) over the next 6 months. I missed out on SilverStar in June, mainly due to my holiday. I'm aiming to make Silverstar in July & maintain it for the rest of the year now.
6) IMPROVE MY LIVE GAME
I have to focus more on this now as I haven't played enough live poker recenlty. No wins in the first half of 2013 although I have just got back from the casino tonight having finished 11th in the weekly £5 tourney, winning a life-changing £10
Well, it's better than nothing!! I'm not happy with the way I played though... I feel that I play too passively live which I think is due to a lack of con idence. Hopefully that will improve with time.
Overall things are going loads better than I expected (bankroll grown to over $1000 rather than being slowly spewed away) but I still have a lot of work to do if I'm going to meet all my goals by the end of the year.
Thanks for reading & good luck to you all.