Hi everyone! We're 1/4 of the way through our Time Vault challenges & I hope things are going well for everyone! March was definitely the slowest month for me so far but I'm still able to report a profit in all 3 game types (Cash, S&G & MTT) for the third month running. That's a fantastic result for me considering that I was a losing player up until the end of last year.
Anyway, just like last month I'm going to run through all my goals for the year & discuss my performance in March & my plans for April.
1) BUILD MY BANKROLL FROM $250 to $2500
I started the month set on playing more regular ring games, particularly $0.05/$0.10 6max NLH. Unfortunately things didn't go to plan & I soon found myself back playing 5NL Zoom. Luck wasn't really with me but I think the main reason for my lack of success in regular ring games was because I found them a little slow & boring in comparison to Zoom & ended up playing too many hands. Here's my graph for the month: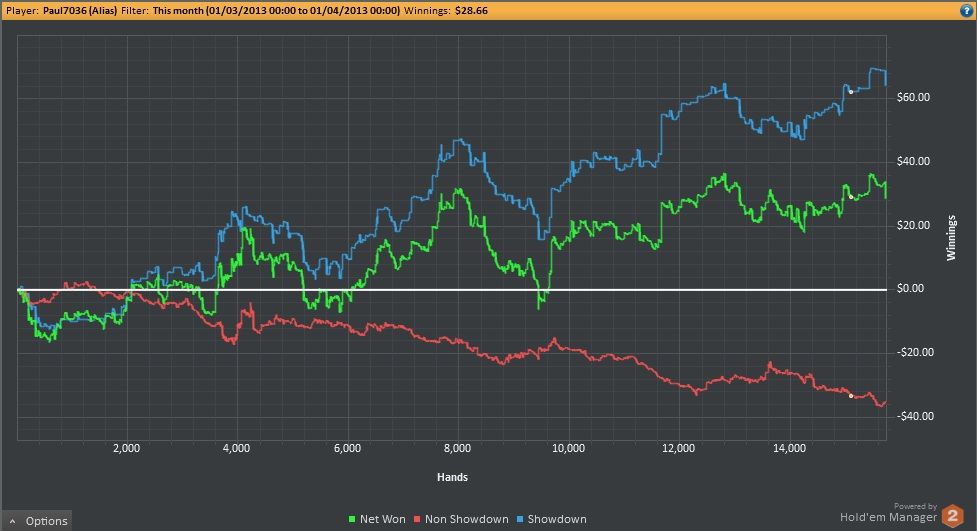 Lots of ups & downs there but I found a little more consistancy towards the end of the month, finishing $28.66 in profit.
During the month I took a couple of shots at 10NL Zoom for the first time with some success. I'll be doing more of that in April. I'm hoping that I'll be able to build my bankroll to the $1000 mark soon & by that time I'd like to be playing Zoom exclusively at 10NL.
I made a further $19.37 playing Sit & Go's. I'm a little disappointed with the volume of S&G's I've played this month - just 36! I feel they're my strongest form of poker & there's a lot of money to be won there. I'd like to be playing MUCH more in April, mainly at the $3.50 level.
One of the highlights of March was the WBCOOP in which I won 5 SCOOP tickets & cashed for $16 in the Main Event. I used the 3 smaller tickets in the Micro Millions, making $25.21 in event #22 (for my $11 ticket) & $8.75 in event #66 (using one of the $5.50 SCOOP tickets). I still have $55 & $16.50 tickets to use during SCOOP
Overall I made $26.52 playing MTTs in March.
The biggest disappointment of the month for me was my performance in the PSO Premier League. I got off to an awful start & was in serious danger of losing my Premier League status. After a series of consistant results I managed to pull myself back up the leaderboard a little. I eventually decided to give it up for the month when I hit 1531 points, a total which I was sure would be enough to make the top 800 to keep my place in the Premier League. I really need to get off to a good start in April & actually make some money for all the time I'm putting into it.
So, to summarise for March:

START BANKROLL: $549.65
Cash: $28.66 profit
S&G: $19.37 profit
MTT: $26.52 profit
Bonus: $18.35 ($10 Stellar Reward, $8 Full Tilt deposit bonus, 35c FT Edge reward)
END BANKROLL: $642.55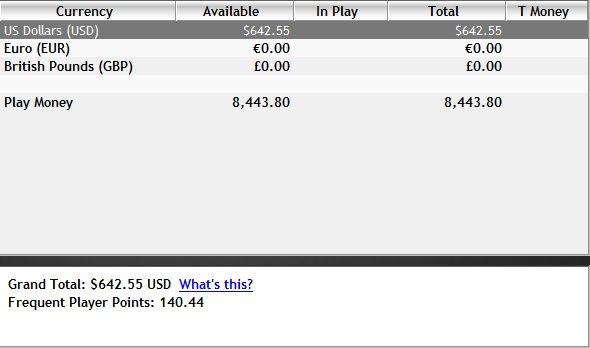 JAN: +$106.53
FEB: +$193.12
MAR: +$92.90
That's $392.55 profit from the first quarter. At that rate my bankroll will be $1820.20 by the end of the year. That would be a great result for me but it's still short of my $2500 target so I need to speed things up!
I need to hit my next bankroll target of $750 before the end of April for sure!
To recap, here are the games I'm playing in April:
LEVEL 2
5NL Zoom with some 10NL Zoom
$1.50 & $3.50 S&G's (mainly $3.50)
$2.50 Turbo 180man S&G's
MTT's up to $5.50, may take a shot the Sunday Storm 2nd Anniversary
Satellites up to $3.30
PSO Premier Skill League
100K Privilege Freerolls
FPP Freerolls/Satellites
TARGET 2 - $750 (move to level 3) back to Level 1 if down to $350
2) SPEND AT LEAST 2 HOURS PER WEEK TRAINING TO IMPROVE MY GAME
I feel I haven't done enough training this month & I really need to work on that in April. I have, however, done a fair bit of training on Omaha & I'm understanding it so much more now
3) LOOK FOR LEAKS IN MY OWN GAME
- MTT Play - I need to work on how to adjust my play depending on the different relative stack sizes throughout a tournament.
- Bet sizing - a few guys in the forum have commented that my bet-sizing is a little on the small side in certain situations.
- Hand Reading - Perhaps not a weakness in comparison to the rest of the field at 5NL Zoom, but definitely something I need to improve on.
I'm sure there are resources available on PSO, particularly in the video archive, that can help me with all of these issues.
4) TAKE REGULAR BREAKS
As for last month I've played poker every day at some point, sometimes very long sessions so I've definitely not achieved this goal
Hopefully the weather will start to improve this month & I'll be able to spend more time out with my partner or hiking with my friends. At the start of the year I said I really wanted to stay fit & enter some walking/running challenges. I'm defintely going to be working on that this month so I think the volume of poker I'm playing might go down.
5) EARN 5000VPPs
One fantastic result for this month is that I became a SilverStar for the first time
It also puts me on track for earning 5000VPPs for the year.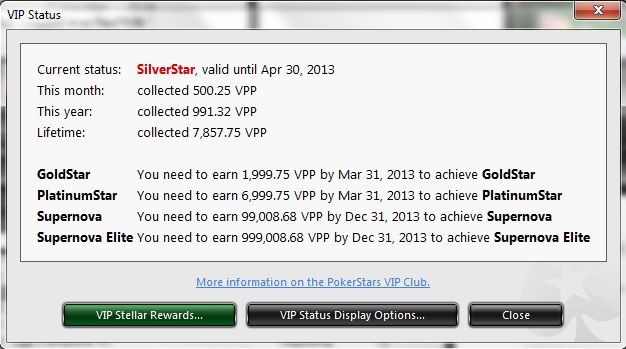 It would be great to make it again in April but that may be tough as I'm also going to take part in Full Tilt's 'Take 2' promotion which will hopefully earn me a $25 bonus, along with clearing another $8 of my deposit bonus.
6) IMPROVE MY LIVE GAME
Another goal not acheived as I didn't play any live poker in March
I hope I can find the time to get to the casino this month.
Check back later this month for my next blog update which will be something completely different, but still relevant to one of my Time Vault goals
Thanks for reading & good luck to you all