It's the end of another decent month for me in my challenge to build my bankroll from $250 to $2500. Here's a reminder of my goals & how I feel things have gone for me over the last 28 days.
1) BUILD MY BANKROLL FROM $250 to $2500
A fairly steady month of 5NL Zoom saw me make a total profit of $45.13. I hit a peak of $50 after 8050 hands but dropped a little after moving up to $0.05/$0.10 Full-Ring games. Here's my graph:
I think there was a couple a reasons for my lack of success after moving up in stakes to $0.05/$0.10. First, I started without having any information on the opposition. In 5NL Zoom I've built up a lot of info, over 1000 hands on some opponents, & most of them are colour-coded so I know what I'm up against each time a new table opens. There also seems to be less fishy players in the higher stakes. I'm not going to give up though. I'll be playing a mix of 5NL Zoom & the higher stake ring games in March. I will try to select tables which I feel have more weak players & switch tables when I find myself sat at a tough one.
I made a decent amount of money playing tournaments in February, largely due to cashing for $37.50 PSO's fantastic Big Bang tournament. I also made a $62.50 cash in Full Tilt's 25K Rush week freeroll which put me past my first bankroll building target of $500. I also had some success in S&G's, making over $30 profit overall. Here's my graph: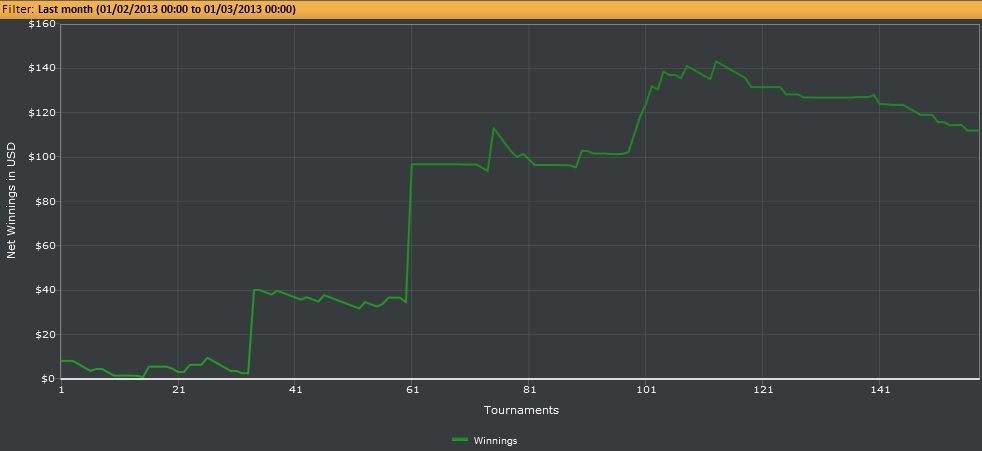 As you can see, I had a bad run towards the end of the month. Sometimes I have runs where I feel like I just can't win. It doesn't matter what my opponent needs to suck out, I just know he's going to hit it before it comes. He usually hits on the river to make it as painful as possible. I think that feeling like this also affects my game so it's better to play lower stake games until things turn around.
A lot of that bad luck came in the PSO Premier League where I struggled to get any decent results for the whole month. On Feb 28th I found myself in 970th position, needing around 30 points from my final game to keep my Premier League status for March. I played a good tournament, making 13th place which was my best result of the month. Hopefully I can make the money in March.
So, a quick summary for February:
START BANKROLL: $356.53
Cash: $45.13 profit
S&G: $32.86 profit
MTT: $95.19 profit
Bonus: $19.94 (Full Tilt deposit bonus/Edge rewards)
END BANKROLL: $549.65
JAN: +$106.53
FEB: +$193.12
A good month overall. I guess a good goal for March would be to make my next target of $750. For that I need to make $200.35 profit for the month. I'm going to need the bad luck I was having at the end of February to turn around pretty quick if that's going to be possible.
2) SPEND AT LEAST 2 HOURS PER WEEK TRAINING TO IMPROVE MY GAME
I've watched a few videos this month & attended a couple of live training sessions & it always helps
I think watching training videos is an excellent thing to do when things aren't going so well at the tables.
3) LOOK FOR LEAKS IN MY OWN GAME
I've identified another problem with my game this month. I think I'm not playing my stack size well when around 15-25bbs in tournaments. In these spots I need to be raising with only the strongest hands & looking for opportunities to re-steal shove. With this stack size raising lighter/stealing isn't the best thing to do as raise-folding is giving your stack too much of a hit. I'll be working on this in March.
4) TAKE REGULAR BREAKS
I haven't done well with this in March. I've played poker (or trained) for at least 2 hours every day. I'm taking a week off work in mid-March to do some DIY so I expect to at least take a few days off while I'm working on the house & garden. The only problem is, my week of work is during Micro Millions! Ooops...
5) EARN 5000VPPs
My plan is to earn at least 150VPPs in February & March while I work on clearing my deposit bonus on Full Tilt. Starting in April I'll then play only on Pokerstars with an aim of making & maintaining Silverstar status (500VPPs a month) for the rest of the year. This would take me nicely to my 5000VPP target in the most profitable way possible. I made the 150VPP's in February & cleared some of my Full Tilt deposit bonus so I'm happy
6) IMPROVE MY LIVE GAME
I've made 2 trips to my local casino to take part in their weekly £5 tournament. Unfortunately I failed to cash in either of them but I feel I played ok. I really need to pay more attention to what's going on at the tables & try to pick up some reads on my opponents. There's a lot more limping & calling going on than when playing online & I need to be taking advantage of this too.
So, overall February has been a really good month for me & I'd be very happy if I can repeat that in March. To recap, at the moment I'm playing the following games:
LEVEL 2
5NL Zoom/10NL Ring Games
$1.50 & $3.50 S&G's
$2.50 Turbo 180man S&G's
MTT's up to $5.50
Satellites up to $3.30
PSO Premier Skill League
100K Privilege Freerolls
FPP Freerolls/Satellites
TARGET 2 - $750 (move to level 3) back to Level 1 if down to $350
I'm hoping for a nice MTT result in March, hopefully a deep run in a Micro Millions event. My MTT game is going to be the main focus of my training.
For regular updates check my thread in the forum
Thanks for reading
Paul7036