Hi everyone
I've had a nice start to the month & I'm pleased to report that I've managed to make my first Bankroll Building target of $500, doubling my initial roll. I've done very nicely at the cash tables but the key to the success so far has been making the most of the promotions & freerolls offered to me by both Pokerstars & Full Tilt.
At the start of the month I decided to play more regular cash games but I found myself getting a little bored so I quickly moved back to Zoom/Rush which I'm really enjoying. I haven't played anywhere near as many hands as last month but things have been more straightforward with my graph showing a fairly steady increase in profit - $31.06 won overall. The one slight downswing I had was losing $10 at 2700 to 2800 hands but I dealt with that nicely by leaving the table & spending some time with my partner. I won it all back plus more the day after. Here's my cash graph:
I guess if you're reading this then you've already heared about PokerSchoolOnline's fantastic new $5000 monthly freeroll called "The Big Bang". Tickets are issued to anyone finishing in the top 400 of 3 consecutive PSO Open League Freerolls along with extra tickets for anyone the PSO Professor feels deserves one based on their contribution to the community or replies to his Play My Hand blog posts. I was lucky enough to receive one of those extra tickets (thanks PSO Professor!) & I managed to make it count on Saturday night by min-cashing for $37.50
A very welcome free boost to the bankroll. The tournament itself was very tight with a generally good standard of play so I was happy with my result.
Towards the end of last month I won myself a seat in another huge freeroll (on Full Tilt) for making the final table of a Rush tournament during Rush week. With a $25,000 prize pool & only 1431 players this was another great opportunity for me. Here's my result: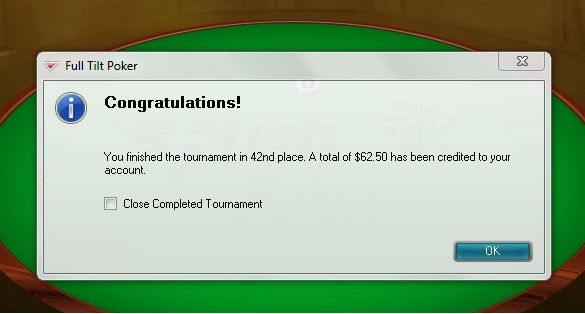 I'm really happy with the way I played it too, right down to my bust-out hand. I was dealt 55 in the Big Blind & it was folded to the button who min-raised. I tried the re-steal, shoving my remaining 13bb but got called by AK suited. A coin flip which I lost when a king hit on the turn.
Anyway, after that result I checked my bankroll & found that it had just pushed me over $500, the first target I'd set myself at the start of the year.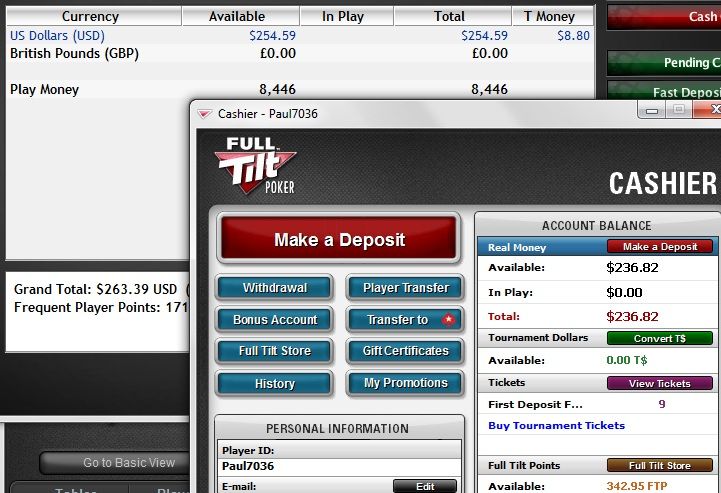 Adding together the $263.39 on Pokerstars ($254.59 cash + T$8.80) & $236.82 on Full Tilt gives a grand total of $500.21.
So, looking back at my original plan (see first blog post) I should now move to Level 2:
LEVEL 2
5NL/10NL zoom
$1.50 & $3.50 S&G's
$2.50 Turbo 180man S&G's
MTT's up to $5.50
Satellites up to $3.30
PSO Premier Skill League (or qualifiers)
100K Privilege Freerolls
FPP Freerolls/Satellites
TARGET 2 - $750 (move to level 3) back to Level 1 if down to $350
I think I'll adjust this slightly to play only 5NL Zoom (1 table) but play 10NL normal ring games (2 tabelling). In January I made $90 playing regular 10NL 6-max cash games outside Pokerstars (in under 1000 hands) which paid for my Hold'em Manager 2 license so I think I'll be comfortable with it. I think the higher stakes will help keep the slower regular games more interesting for me.
Hopefully I can reach my next target of $750 by the end of March.
I've decided to abandon my target of making my first VIP Stellar Reward by the end of the month. I've been doing really well on Full Tilt, transferred $80 just 2 weeks ago & I've now built it up to $236.82. I've cleared the first $8 of my $80 deposit bonus & I'm going to work on clearing more of it before transferring it all back to Pokerstars at the end of March. So, my target for Febrary & March will be 150VPPs (to keep access to all videos on PSO & full Premier League prizes). After that I'll be sticking mainly to Pokerstars with the target of making Silverstar status (500VPPs) every month until the end of the year which will take me nicely to my original target of 5000VPPs (for the big $50 stellar reward) for the year. I think this plan will give me the best value overall.
As for the PSO Premier Skill League, I've played 7 tournaments this month & have so far failed to make the money in any of them. I need to focus on this & play more tournaments or I'll be losing my Premier League status.
Please check out my forum thread for regular updates & examples of hands I've played. It would be great to receive some feedback as I'm always looking to plug leaks & improve my game.
Anyway, thanks for reading this & thanks everyone for your support
Good luck to you all!