Hi everyone! January has come to an end so it's time for an update on how my Time Vault challenge is progressing. Here are my goals once again & how I feel I've done with them over the past month:
1) BUILD MY BANKROLL FROM $250 to $2500
I have to be honest, I've played poker for more than 10 years & this is the first time I've managed to get through a whole month using proper bankroll management! It's gone really well too so I'm definitely going to be managing my bankroll as effectively as I can in the future.
I played most of my cash poker on 5NL Full-ring Zoom. After a fantastic start I hit an unfortunate run of bad luck in the middle but then managed to steady things for the remainder of the month & come away with a decent profit. Here's my final graph for 5NL Zoom.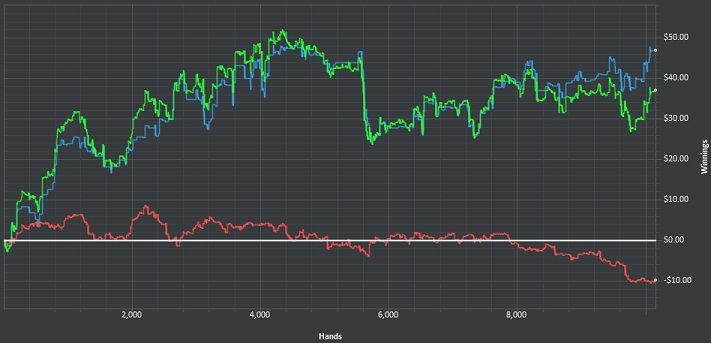 Towards the end of the month I decided to take up the offer of a $20 deposit bonus at Full Tilt Poker. So, I transfered $80 to Full Tilt & decided to take part in their Rush Week while I earn the 100FTP's required to clear the bonus. I haven't got off to the best start here, very up & down, but at least I'm showing a small profit for my efforts. I think a lot of this is down to the unknown opposition - I've played a lot of Zoom on Pokerstars & I've colour coded a lot of the opposition which, along with the stats that Hold'em Manager 2 has collected, definitely helps with decision making. I'm starting to get that together on Rush too so hopefully things will speed up. Here's my graph from Rush poker (Jan 28-31):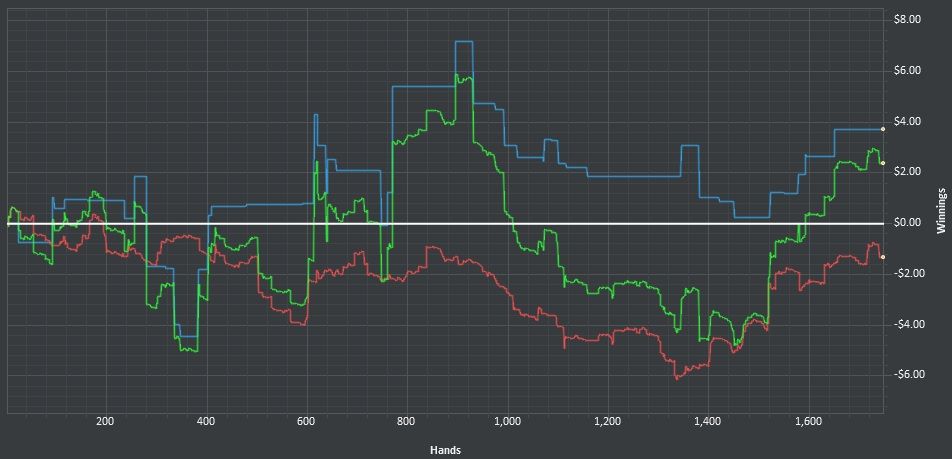 There's also a $25,000 Freeroll on Full Tilt for all those making the final table of a Rush tournament during Rush week. I started to play the $1.10 Rush On Demand Sit&Go tournaments to try & get myself in the freeroll. Failed to cash in my first 7 attempted but then made 3rd/281 in my 8th attempt, taking the $35.12 prize & my seat in the freeroll which will hopefully give my bankroll a nice boost in February.
I finished 225th in the PSO Premier League for $20
Nice result for my first month in the Premier League & I get another shot at it next month.
I've also had some success on the $1.50 S&G's on Pokerstars, playing both the 18man Turbos & 9man Hypers. Here's a breakdown of how it's all going:
START BANKROLL: $250
Cash: $39.20 profit
S&G: $18.44 profit
MTT: $8.99 profit
PSO Prem: $20 profit
Bonus: $20 (Full Tilt deposit bonus)
END BANKROLL: $356.53
At that sort of rate I'll finish the year on around $1500. Although that's short of the $2500 target I'd still be happy with it and hopefully things will speed up as my bankroll grows
2) SPEND AT LEAST 2 HOURS PER WEEK TRAINING TO IMPROVE MY GAME
I've attended a few live training sessions & watched a few videos & I think it's really helping. I definitely need more of this in February so I'll continue with the 2hr per week target.
3) LOOK FOR LEAKS IN MY OWN GAME
I've been working more on folding when I think I'm behind. I think it's going ok but definitely needs more work. Having looked back on previous hands using Hold'em manager I think I need to work on my post-flop play & hand reading. When playing in a big hand I need to take my time & think about it before making my decision. I'm usually pretty good at reading hands but only after I've thought everything through first.
4) TAKE REGULAR BREAKS
I've done ok with this too. A few trips out with my partner & I've also taken part in a 32 mile challenge walk this month
5) EARN 5000VPPs
I'm a little behind with this but things should speed up as my bankroll (hopefully) increases & I can play larger buy-in stuff. I think a good target for February would be to make my first $10 Stellar reward. Here's how things are going right now: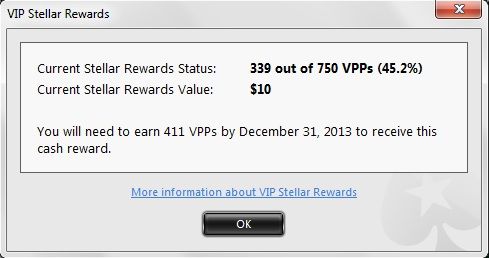 I guess that if I can make the 411 VPPs required I could maybe have a go at pushing it to 500 for the month to earn SilverStar status for the first time. Might save that for March though as I'll be spending some time on Full Tilt for the next week or two.
6) IMPROVE MY LIVE GAME
The only goal I feel I haven't managed. I haven't had the chance to get to the casino much this month, only making it the once & losing my £5 buy-in. Still, I feel really good about my live play after making the final table & £135 prize at the end of December. Hopefully I can make it down there 2 or 3 times in February.
----------------------------------------------------
Now, although I wont go into detail here, i have played some poker outside Pokerstars/Full Tilt & my play there has earnt me enough to purchase Hold'em Manager 2 which is definitely going to help for the rest of my challenge. I want to play as much of my poker as possible on Pokerstars this year so I can collect VPP's but I decided to take advantage of a promo elsewhere & as a result I've got 4 chances to win £50 tomorrow. If I win anything more I'll keep that seperate to my Pokerstars/Full Tilt bankroll & use it to play live events. I may use it to add to my bankroll if Pokerstars have a deposit bonus though...
Just as a reminder, my plan was to play the following games until reaching $500:
LEVEL 1
2NL & 5NL NLH cash/zoom (mainly 5NL Zoom)
9/18/27man $1.50 & $3.50 S&G's (focus on $1.50, keeping an eye on leaderboards/Battle of Planets)
$2.50 Turbo 180man S&G's
MTT's up to $3.30
Satellites up to $2.50 (Sunday Storm/Sunday Million/TCOOP/SCOOP etc.)
PSO Premier Skill League (or $1.10 Prem Lg Qualifiers if not in the Premier League)
100K Privilege Freerolls
FPP Freerolls/Satellites (such as to Sunday Storm)
Now I'm up to $356.53 I'm unlikely to play any 2NL cash games, just stick to 5NL. I think I'm going to play more normal ring games in February, including some 6max, rather than just Zoom. I think I'm quite an observant player who picks up a lot about the way my opponents are playing & that's a good quality to have in normal ring games. In Zoom I'm limited to color-coding opponents & looking at the stats that HM2 collects. One really good thing about Zoom though is that you're playing more hands & earning VPPs much quicker.
So, I think that just about covers everything! Thank you for taking the time to read this! Please keep checking my thread in the forum which you can find here: http://www.pokerschoolonline.com/forum/showthread.php?46747-My-2013-poker-goals-bankroll-building-(time-vault)
I'll be posting more hands in the coming months & it'd be good to hear your opinions & get some advice. I wish you all good luck at the tables, especially those taking part in your own challenges!