Hello PSO, it's been a while since I posted here. But I am returning to you with good news. Pokerstars is currently running the November mission weeks promotion, where you can earn your spot at a chance for free cash. You simply select your mission, complete it, and hope for some rungood in the all-in tournament you get as a reward. This is a great promotion to motivate you to put some volume in and work on your game. There is also a really good chance of getting free cash at the end of each week (which is always nice).
For week 1 of the promotion I went with the 'POSSIBLE' mission, which had a $15k first place payout. When the tournament ran, it had 6254 entrants and it paid 4096 places. This meant that you had a 66% chance of getting a prize. I got a bit lucky and managed to get 52nd place for a cool $750 bankroll boost. There are still two weeks to go, so plenty of time to get your seat!
This succesfull mission along with my recent tournament final tables (see previous blog post) have boosted my bankroll to the point that i am actually properly rolled for 50 NL.
However, there was one mission that I felt I had left unfinished. The one that I started with my first blog post, and that I put on hold while I played tournaments. I want to climb through the levels at cash games and beat them.I've decided to do more than just play, but play with a plan. Study, refine my ranges, and plug leaks using the awesome video library here at PSO.
Even though I have a bankroll to dive into the 50 NL games, I am going to pick this challenge up where I left off. I was playing, and beating 5 NL before all this tourney and giveaway succes. So I will be playing 10 NL for the time being.
My goal is to climbing through the ranks, beating each limit before I move up. To establish that I am beating a limit, I will have to play at least 100k hands at each limit (and beat it), before I can move up. I have played my first 10k hands of 10 NL in the past days, and the results can be seen in the graph below.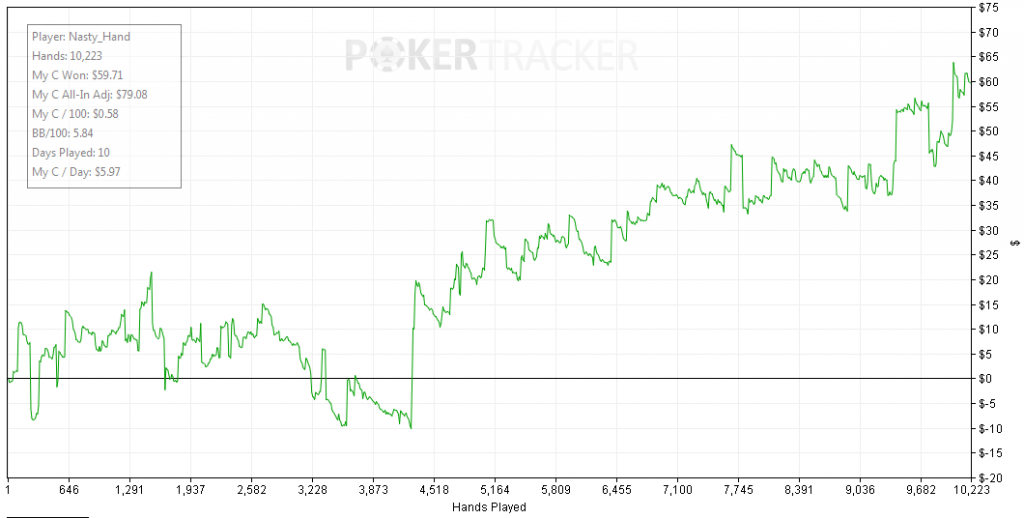 I haven't been running super good lately to be honest, but I've still managed to squeeze out a 5.84 bb/100 win rate over 10k hands, so I can't complain. If I can maintain this for 90k more hands, we'll be at 25 NL in no time. Since it's MicroMillions, I'll probably throw in a tournament or two for good measure. I'll keep you guys posted.
Good luck at the tables and in life!