Hello again,
Well its the end of the weekend and thought I would quickly post some of my results since focusing on only Single table $3.50 Sit and Gos.
I was working this weekend so was playing in-between 'working', a couple of games suffered because of it and I found I was tilting in a couple of others due to bad beats or getting it in good and them getting lucky, im working on managing it though and trying to step away to calm down before getting back into it.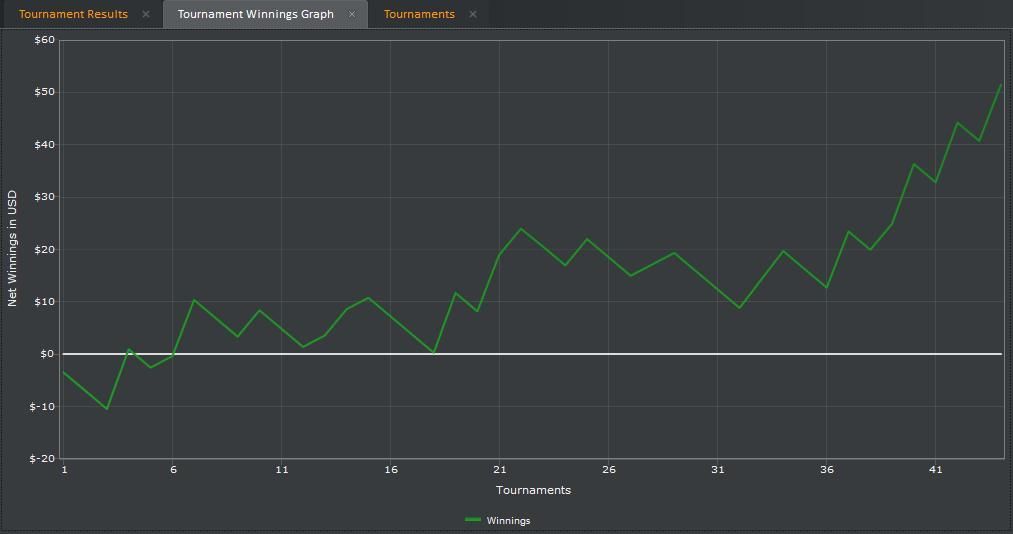 Early results are looking good but given I have only played 44 games it is a little early to get excited.
I played both Turbo and Hyper Turbo but trying to stick to Turbo as i feel the variance in the hyper will be horrible in comparison. I find myself getting a bit frustrated in the normal speed games and playing pretty horrible - another thing I need to work at I know but given my life, Turbo suits me fine.
So Bankroll started at $100 (20/02/2016)
Current Bankroll $152 (+$52) (21/02/2016)
I have a busy week ahead so wont get as many games in but I'm sure there will be a few. I often play on a tablet during the week which is only a problem because I dont have the HUD and my results aren't track through HM2 like above (and there is still no way to manually enter results to my knowledge). I will try to play as much as I can on the PC so it is tracked for me to share with you.
Anyway, thanks for reading and hope to bring some more positive news with the next update.
Jamiefunds