The first week back is usually the hardest but I am pleased to tell you I got off to a good start. It seems I have not lost any of my edge and the time off may have actually of helped. Before I started I think my bankroll was around $150. It is now sitting at $703 but it was at $945 before I cashed out £150 for some Christmas presents
.
I made a couple of final tables and a lot of deep runs last week. My biggest score of the week however came from shipping the $3.30 2kGtd for $627. Some honourable mentions though was a 4th in the $4.40 4max 1000cap for $85 when I lost JJ vs TT for the chip lead and 2 deep runs in the Sunday Spark and The Big $5.50 for a combined total of about $100.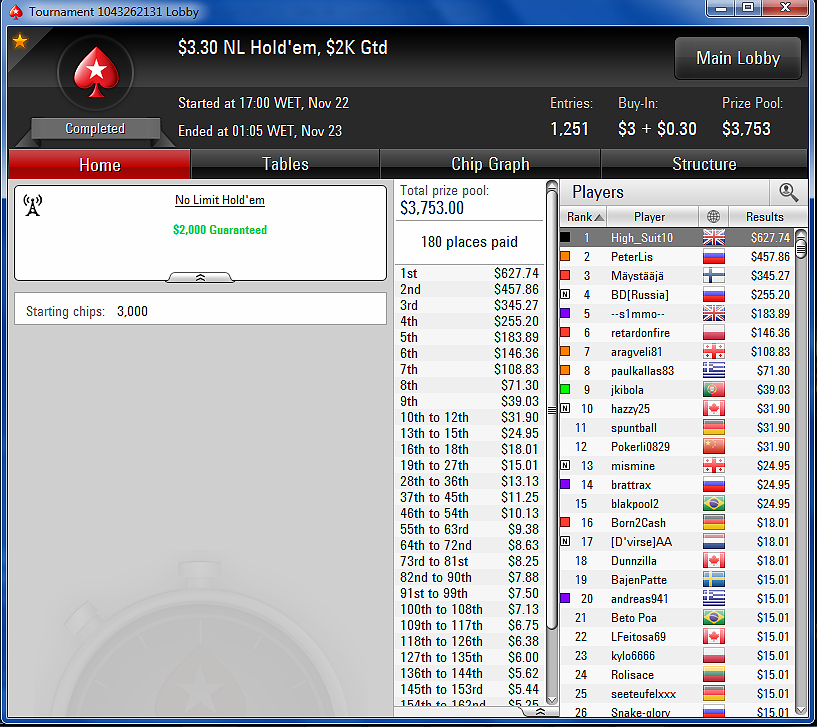 In terms of improving my game I have yet to review any of my MTT's but I did manage to finally get through all my hands I tagged for review in HM2. It seems most of the hands I am not sure about are preflop calling ranges vs shoves.
I also railed some big named players and watched the Pokerstars replays of some of the majors. One player who is really sticking out for me and is absolutely killing it at the moment is Fedor Holz or more commonly known as CrownUpGuy (Pictured Below).
If you do not know who he is you have probably been living under a rock. Fedor shipped the this year's WCOOP Main event for $1.8m while on the same night taking 3rd in The Bigger $109 for $34k. The next month he shipped Full Tilts Sunday Major for $38k and a month after that (the night I was railing him) he shipped the Sunday 500 for the second time this year. His first score was for $85k and this one was good for $65k. According to PocketFives he is currently ranked 4th in the world at the moment.

One thing I noticed about his game that I did not expect was his 3bet sizing and his flop/turn bet sizing. Generally MTT players like to keep their sizing small but Fedor liked to go big with 3x 3bets and big turn bet sizes. He was making it very hard and expensive for his opponents to call down with marginal hands and was always giving them bad prices on their draws. He was doing this so frequently that it became apparent he couldn't always have had a made hand and must have been pressuring opponents out of pots. His range seemed very balanced so he was very hard to play against.
I decided I would try and implement a strategy like this and I am having good results with it. I am making the micro stake players pay to draw against me and pressuring them to fold their marginal hands when I am drawing. It seems players are playing more honest against me as well.
I am also about to finally break the top 10 online poker players in Northern Ireland this month according to PocketFives. Once they update their PLB leader board I should hopefully take 10th spot. It seems grinding out them large field MTT's is really yielding a good lot of PLB points. Not much to brag about but it was something I had been keeping my eye on.
That seems to be everything for now. I have wrote up a blog or more an article on playing drawing hands at the micro stakes that I have yet to post. I think it will be interesting once finished. I should get that out before I release a blog about the upcoming 2015 Bankroll Challenge.
Good Luck at the tables, TJ.