Well it's been some time since my last blog and the main reason for that is real life has gotten in the way of poker. At the start of June I was pretty much in a slump and not enjoying playing as much becasue of my poor results so for the first part of the month I hardly played.
I think it's always a good idea to get away from the tables if you're just not in the right mind set and luckily I got a good chance to get away from everything for a few days to go on a stag weekend with some friends. My good mate Mikey is getting married over in America soon so before he set off we decided to have a weekend away down in Manchester. It was a great weekend with plenty of drinking and with the World Cup being on at the time we were never short of entertainment. I have to say at one point I was worried about a bunch of scottish guys being in England during the England vs Italy game but we managed to find a nice irish pub were we felt it wasn't dangerous to cheer on the italians. Didn't get back to the hotel until after 4am that night lol. And while we were down there we even took a stadium tour of Old Trafford since Mikey is a big Man Utd fan.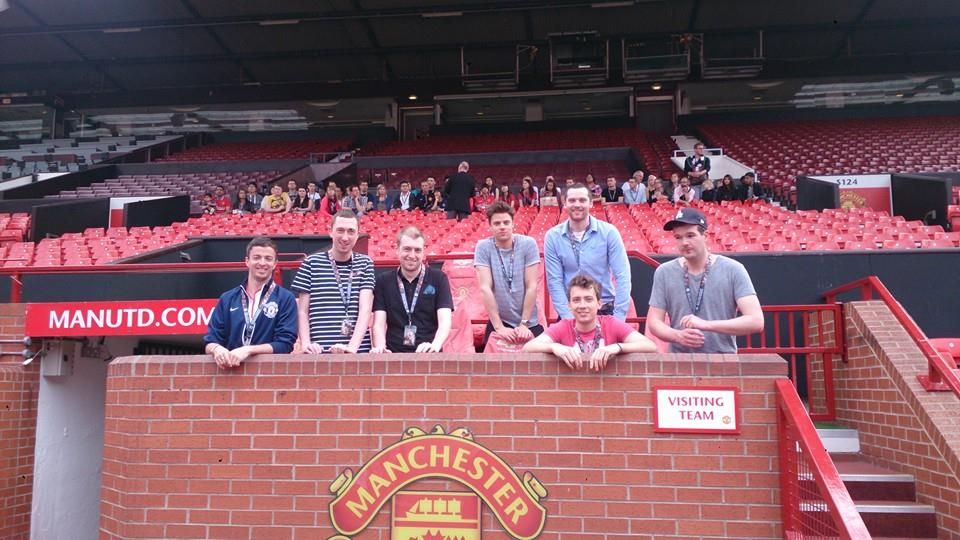 I'm the handsom one in the black t-shirt
Needless to say we were all pretty hungover in this picture but great day all the same. After that there was yet more drinking and lets just say the rest of the stories aren't really suitable to be published.
Once I was back home it was back to business more or less and I tried to get stuck into the PSO Series of Poker. Having missed quite a lot of the first days events I felt quite far behind already and I'm not sure if it was just in my head or not but things seemed lost already. Most of you know during any PSO series I'm normally the first to pipe up and say I'll be top dog on that leaderboard but I couldn't get into this one. About half way through the series I was still on a handful of points and struggling to get any cashes. I'm pretty sure I set a record for bubbling games, quite often in the sickest or stupidest of ways. Towards the end of the series things did pick up and I cashed a bit more, even managed 3rd in the 8-game and another couple final tables in the 2-7 SD and a PLO8.. possibly one more in a NLHE but I forget now. It wasn't quite enough to get near the prizes but at least I got closer to break even.
As we got into July I was feeling a bit down again because of my performance in the PSOSOP and other games. My motivation just wasn't there and I had quite a lot of "real life" stuff on the go as I was due to be working in the Commonwealth Games. For just a few days work there sure was a lot of organising to do beforehand. Meetings, safety briefings and training days... I guess for high profile events the organisers want to make sure things go perfectly. I decided until all that was over poker would go on hold and when I came back I'd come back with a real intention to go harder than ever. So that's what I did. The games were fun (actually not quite over as I write this blog but my work is), but now I have more free time on my hands I'm back at it. Managed a couple of MicroMillions events, even cashing in the $8.80 Progressive KO with a few bounties on top. and I'm grinding 5NL Zoom and enjoying it more than ever. So things are looking up!
I promised myself as we go forward I'd pay more attention to my volume and winrates so here's my cash graph for June/July. Very few hands I'm afraid, about 4k from June and the rest from the last three days or so.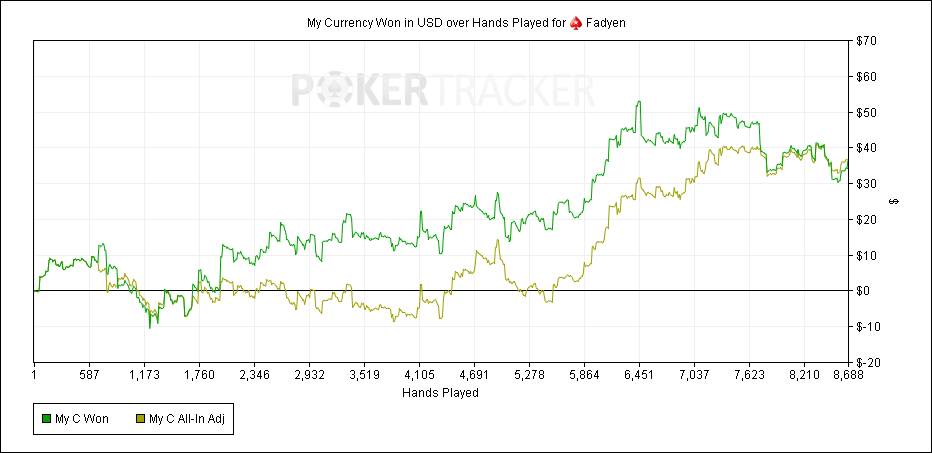 Nothing spectacular but the green line is generally upward trending and that's the general aim.
So I guess all that's left is a few bankroll figures and such:
Starting Bankroll (Jun 1st): $387.78 + Tickets: $2.20 MTT
Current Bankroll (July 31st): $402.92
VPPs Earned: 74.42 (June) + 176.33 (July)