Hi all
I took a look at the progress of the leagues this morning. I was impressed to see 6 Canadian players made the Final Table of one Open Skill League tournament last week, but as none subsequently gained league points for their efforts I concluded they were not yet members of PokerSchoolOnline. That is a lot of value missed, not just from the League Prizes they may have been awarded, but from all the valuable resources here at PSO. The Open Skill League is an entry point where many PokerStars players first find their way to PokerSchoolOnline, and I hope some of these players will register here so they can take full advantage of what is on offer and play a part in our growing community.
Open Skill League
I took this screenshot of the top places this morning, it seems the Ukrainian players are taking a hold on the league so far this month, but one of our members is giving them a good run.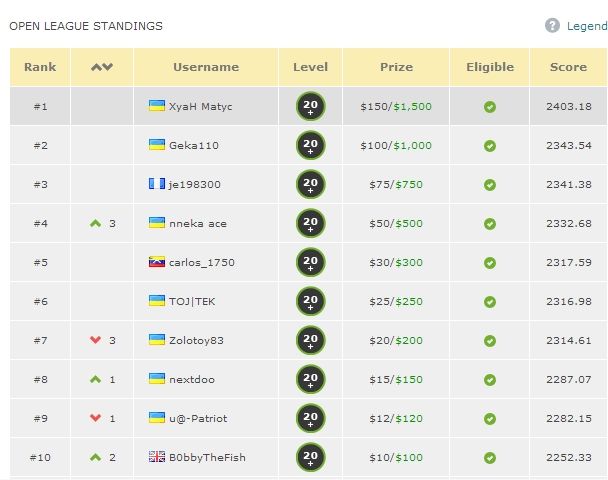 B0bbyTheFish from the UK surely knows the potential value here. Running in 10th place in the Open Skill League, it looks like he could be making another serious challenge for the high places. He has already made the top ten an astonishing three times this year, with a best finish of 3rd back in February for a serious prize of $750.
Excellent individual tournament results have come from Canadian members ag120, who won an Open Skill League tournament, and HisRoyalDraw who took down a 2nd place spot.
Premier Skill League
HokyPokyToo of Canada made a fast start in the December Premier Skill League with a 3rd place, followed by just missing the FT in the next game finishing 10th. Meanwhile UK player 4Dice4 has made two final tables, with a 2nd and 8th place. Fellow countryman hamster64 started off with a very good 9th place. wikked76 of Singapore has taken one final table finish so far in 4th spot, and with several other deep runs was 42nd in the league placings, whilst the other players mentioned here were all in the top 100 of this very competetive league.
Premier Skill League Qualifier
This league not only provides an alternative route to qualify for the Premier Skill League, but with a cash buy-in the games provide a good opportunity to practice your tournament play against other PSO members for real money tournament prizes.
Two Canadian members have taken full advantage, with ballistic12 winning a 209 player contest and Astro705 taking first place in a field of 86. They both took good in-tournament prizes for the $1.10 entry fee and were well placed in 29th and 30th in this league.
...........................................
There is a long way still to go this month, so why not take up the challenge of the Leagues.
Don't forget you can always get help and advice in our forums, or you could write your own blog to tell everyone at PSO about how you are progressing.
Good luck all
Ed
Team PokerSchoolOnline