When thinking about my best PokerStars moments thoughts of my first check-raise all-in river bluff came flooding back. Along with my first cash, my first final table, my first 4 figure score, my first scheduled MTT win at 5am one Sunday morning with my drunk friend (@fugliee) railing me! And how can I ever forget my first cold 4 bet bluff. Fond memories.

It's even better that it makes me $$$$ but it wasn't all smooth sailing. A lot of bluff, sweat and tournament dollars have gone into such good times. Studying +EV plays and ultimately falling in love with the game to allow me to enjoy playing countless hands on the World's premier site, against the World's premier players and come out on top. I'm still working fiercely on my game mainly aggression levels as the tournament progresses and also keeping up with trends with what is an ever changing game.
I'm sure a lot OF people can relate to my "my firsts" above as their favourite moments so I'm going to throw a curve ball, Ninja's going outside the box, flatting an early position raise with AA for deception if you will. I'm going to say that my favourite moment so far on stars was the first time I multi-tabled 12 MTTs at once. It looked a little something like this: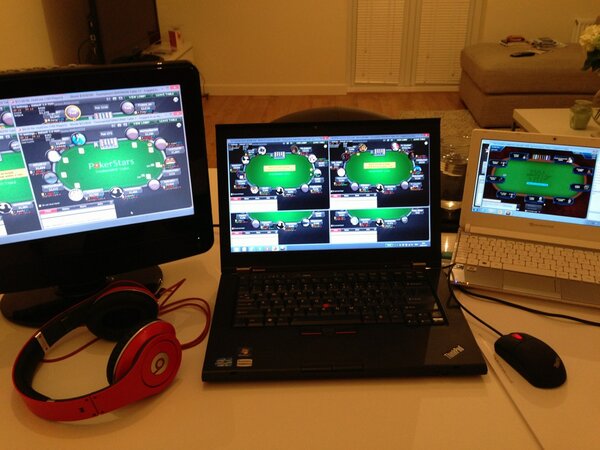 It's the norm for me now, but at the time I felt like Daniel Negreanu on a podcast, bigdogpckt5s with a cheese burger or Liv Boree with bigger breasts – sensational. I didn't think I'd made it, I was actually worried that I'd miss some spots and impact my ROI (return on investment) but something deep within my loins gave me a warm, fuzzy feeling. It soon disappeared as I had a decision to make approximately every 5 seconds but a can of red bull (other energy drinks available) soon helped with that. And then when you think about it some more - in terms of tournament strategy - the concept works really well. Simple ABC poker for the first few levels with an increase in aggression as the blinds and antes go up worth stealing in relation to stacks and value. So as you get coolered or lose a flip here or there you are left with a few tables that you can concentrate on and magically you'll have a stack in a couple. That may seem weird that you "magically" have a stack but when you are multi-tabling you don't focus on race results, or if your value bet on the river gets paid because you've got another decision to make on another table and time is against you. So as tables drop you and you get a chance to breath you suddenly realise you are in great positions in 2 of the remaining 6 tourneys, or in some cases 4 of 6 or even 0 of 6 and you've got work to do.

So, if you are a multi table virgin fire up 12 x $0.50 and $1 SNGs and give it a whirl. You might be surprised at how well you do! It's certainly brought me a lot of joy, especially the first time.
Remember to follow me on twitter: @whiteninjapoker