While there is still some time to go before the year is officially over I have decided at this point to bring my cash game efforts to an end at this stage. December has gone very well and I only played five days at the cash tables. So given that I have not had a winning month since April I thought it made sense to lock things up and go into 2015 with positive momentum.
2014 was the first year I set goals for myself and I think if I had stuck to the plan I would have had a decent chance of achieving them. The monetary goal was to win $1000 over the year and by April I was more than half way there. I felt great and the dream of actually making money at the game seemed quite real.
It was in early May that I decided to take a shot at 25NL for the first time, and I started off with a fun run of hands, and I was quickly more than $125 ahead at 25NL. Then it all went wrong, I started hemorrhaging money at the tables, and I went through long periods of tilted play. Days where I played 5k hands or more chasing a win. It was great for VPP's but not for my mental health.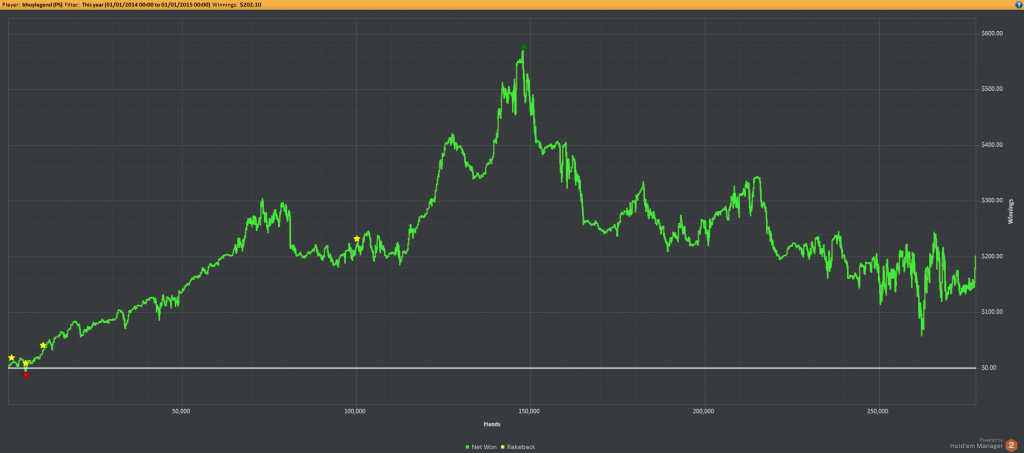 This is the graph for the year and the rise and fall can be quite clearly be seen. It was never going to be the case that I could keep winning at the same rate I had been in the early part of the year.
The jumping around in stakes from 2NL to 10NL to 25NL makes the graph look quite horrible and it was not wise in the slightest to have been doing that. I should have taken it more seriously.
This is the graph in big blinds won rather than dollars won, and although the long breakeven stretch at the end of it is concerning it does suggest that I wasn't doing as badly as I felt I was, it was just that I had jumped stakes, and it feels so much worse when the $500 you have won at 2-10NL is quickly diminshed at 25NL.
As the year ends I have won $202.10 at the cash tables. I have earned 8416 VPP's. Another $220 via 235FPP satellites as a form of rakeback. Another $100 of actual rakeback and $10 from the recent Zoom and Boom promotion. While my STT/MTT play has been decidedly break even, marginally losing, it hasn't been to the extent where I have suffered any significant losses.
In 2015 I will be setting less lofty goals, I will be watching the poker ecosystem very closely, and will try and adapt to it to stay in the game. I have enjoyed poker this month and I want to continue to do so next year.
I wish everyone a Merry Christmas and a Happy New Year!