Hi everyone, and welcome to another exciting instalment of the Big Bang. Below is part 1 of the final table video for October 2013, featuring commentary from me (ArtySmokesPS), CannonLee and Roland GTX, with recording and editing by royalraise85.
Close to 400 players were lucky enough to earn tickets for this freeroll with its $5000 guaranteed prize pool. As the final table started, the stack sizes were as follows: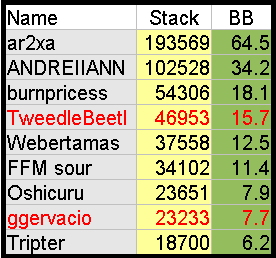 TweedleBeetl and ggervacio were representing PSO, with the latter making an unprecedented run of two back to-back Big Bang final tables. Without further ado, let's get straight to the video and let the action commence!
[youtube link="http://www.youtube.com/watch?v=hZnXX1DZdg0&hd=1"]
I hope you enjoyed that. Part 2 will be uploaded in about a week. Till the next time, have fun and good luck on the tables!
If you'd like to know how YOU could earn a ticket for the Big Bang click HERE. You can keep up to date with all the great pokerschool promos coming up by checking the PSO homepage, or following us on twitter or Facebook.