Hi guys and gals, and welcome to a review of the final table of the July 2013 instalment of the Big Bang ($5000 guaranteed) tournament. Commentary comes from CannonLee and ArtySmokesPS, and the footage was recorded and edited by royalraise85.
As the action begins with nine players ready to roll, here is the stack-size situation: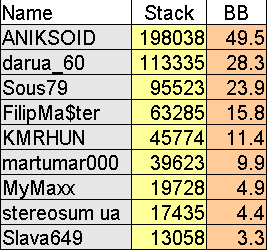 There are some very short stacks on the table as the cards go in the air, but as usual in poker tournaments, the leaderboard can change pretty quickly!
Listen out for name-checks of a few PSO members that didn't quite make it to the FT. Hopefully next month, one of our buddies will take it down!
[youtube link="http://www.youtube.com/watch?v=GJJdNPGKNi4&hd=1"]
CLICK HERE for more information on how to gain a FREE ticket to The Big Bang tournament, in which you could win a share of the $5000 guaranteed prize pool.
Roland GTX will be posting part 2 soon, so be sure to subscribe to his blog to be notified when it's available.
Till the next time, good luck on the virtual felt!