Hi All,
Thought I'd recap a few hands from the Live Training class yesterday for Event 47 in the WCOOP $265 buyin Turbo Knockout.
The structure was pretty good for a Turbo. $5k starting stacks and a relatively slow blind increment. Some nice cards and a lot of run good resulted in a nice deep run.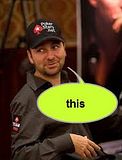 Hand 29 I picked up rockets in an excellent position to make a nice big 3bet to look like a squeeze. And picked up the 1st bounty
Hand 82 after being pretty quiet and losing a few pots. I get KQo on a 15BB stack a nice position to shove and pick up blinds or look to double with good equity
Hand 94 I picked up pockets Tens UTG. We have 25BBs at this point, but rest of the table is short stacked so rather than risk playing a pot out of position here or being faced with a 14BB shove I decide to shove myself, we run into a monster, but pick up Bounty number 2.
Hand 127 Down to under 10 BBs I shove Jacks and double through the BB in a rollercoaster hand, BB incidently came back from 767 chips to be table chip leader over the next 4 hands.
Hand 150 the 1st hand after the money bubble I get it in with AK and pick up a massive pot and the 3rd bounty to set up for a deep run
Hand 155 with AKs this time I pick up another big pot and bounty number 4
Hand 162 we clean up a short stack with our Queens in the BB and collect bounty number 5 and climbing up into the top 30 chip stacks for the 1st time
Hand 178 Blinds still increasing at a relentless pace we win another coin flip to stay ahead of the game.
Hand 185 Shortly after, I lose a race with but thankfully are still left with a few chips
Hand 186 Very next hand I tangle again with yayess after seeing him isolate shorter stacks with a fairly wide range.
Hand 200 I catch a very untimely bluff from the SB to double again back into the top chip stacks remaining
Hand 237 and short again I shove pocket ducks and river quads to win another massive pot and head into the final 2 tables. And meet our first Red Spade Johnathan Duhamel.
Hand 240 with AA for the 3rd time I mop up another short stack for our last bounty.
Hand 269 I'm very short with two very active big stacks on my right I have very few oppurtunities to try and get chips. AQ comes along just in time and holds up.
Hand 272 Still short and playing short handed now as we head into the final table. I shove my last 9 BBs and run into a big pocket pair in the BB. I can't catch up and bust in 11th for $4173.75.
Very happy result. A little disappointed missing out on the final table but can't complain after all that run good.
Thanks to everyone that watched.
Hope to see you all in training again.
Andy