Haven't written up a blog on my challenge for a while so thought i'd update to share with you all how im doing if you haven't been keeping track of my thread.
Managed to make a few deep runs in MTT's and had a big score in a $1 tournament for $500 plus managed to get up to the $2.50 level in sng's.........wait, no im not acoimbra
Hasnt been going as good as i would have hoped at this point, i did plan by this point to have moved up to the $1 sit n go's but variance has got in the way of that goal. Not been going to bad on the MTT front though, decided to plsy the 1000 cap $1 buy in tournament and got 8th place
PokerStars Tournament #724381650, No Limit Hold'em
Buy-In: $1.00/$0.10 USD
1000 players
Total Prize Pool: $1000.00 USD
Tournament started 2013/05/04 22:45:00 WET [2013/05/04 17:45:00 ET]

Dear adsthepro777,
You finished the tournament in 8th place. A USD 20.00 award has been credited to your Real Money account.
Even with this deep run i was real disapointed, by the time we got to the final table it was late and i was pretty tired and don't think i played the final table well at all, but still decent score but more made up for sng losses than anything else
Right time for graphs, tables and whatever else i can find -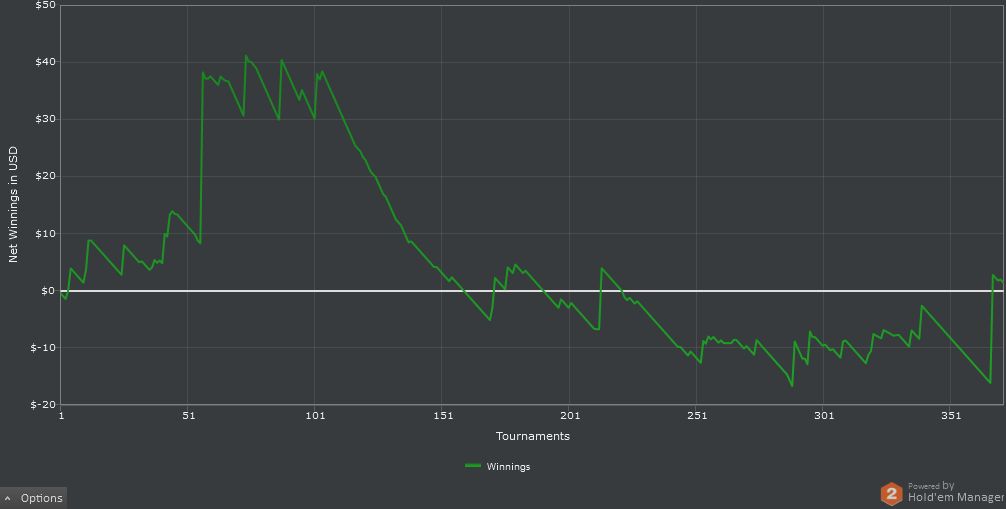 I actually had a good start with the $0.50 45/90 man sit n go's and topped off with a big score in the silverstar freeroll which put me up around $30 for the challenge. At that point i decided i wanted to move up to the $1 90 man turbos (bad idea) hit a lot of variance and in general played it bad, having a horror downswing
So i thought i'd read through some of the acoimbra blogs and see if he had any good strategies in there i could take a look at, and i found this thread. I recommend anyone on PSO who is playing micro stakes sit n go's in the turbo format to take a look through that thread, it really is a great read and takes you through every stasge of the tournament and talks through what the best strategies are for each level.
So, with that firmly in my mind i decided to go back to the $0.50 games and try grinding them out once more to try and use the new strategies i found and start winning again!
Didn't really go to plan as you can see but with all the bad beats i had, i think i did well just to be breaking even and hey, its better than losing right?
I am basically gonna keep grinding and hope that if i keep gettting my money in good i should be able to make some decent profit from theese games and move myself onto the next level.
$12 in losses at the $0.50 level isnt terrible i guess (almost one win away from even) but i really wanted to be in the green by 200 games for sure :/
ITM Graph
My ITM is currently at 14.63%, i think to be making some good profits at this level i need to get that to 20% or more, but i know its going to be low because of the variance in the 45/90 man games.
Thanks to everyone who is following my challenge and commenting on my thread/blogs, gonna keep grinding and studying until i pull through and make some profit at these games!
Ads