There are a wide variety of poker games that you can play on
PokerStars
. Below you'll find a brief description of the more popular variants and a link to where you can find a more in-depth explanation for each one.
Texas Hold'em
Hold'em
has fast become the most popular format of poker played both live and online in recent years. It's relatively easy to learn. Each player is dealt two cards and after all the community cards are dealt the player with the best five-card poker hand wins. To learn the basics of Hold'em try out our
Poker Basics
course.
Omaha
Omaha
is very similar to Hold'em in many respects with the main difference being that each player is dealt four cards instead of two. Now when it gets to a showdown players must make the best possible five-card hand using two of the cards that were dealt to them and three of the community cards. Check out our
Omaha Basic
course for more information.
It gets a little more complicated when you start to play
Omaha Hi/Low
, also known as Omaha 8 or better where the pot is divided between the best hand for high and the best hand for low. The best low hand possible is known as a 'wheel' and looks like this:
Straights and flushes do not count against a low-hand and more information on Omaha Hi/Low can be found
here
.
Courchevel
Courchevel
is an exciting format that derived from Omaha. Each player in a courchevel game is dealt five 'hole' cards that belong only to that player. All players must use exactly two from their five hole cards combined with three from the cards dealt on the board, the community cards, to make their best hand. Check out
this page
for more information about courchevel.
Stud
Stud poker is considered one of the most complicated formats of poker and can take a lifetime to master. The game is played with a mixture of hidden cards and exposed cards for each player. This often means that the player at the table that can process the vast amount of information available will usually be the most profitable during the game.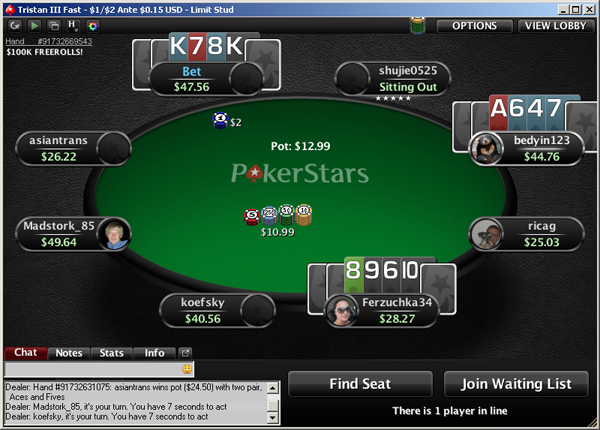 You'll find all the rules and some suggestions for learning how to play Stud poker on
this page
.
Other Formats
And that's not all, in fact there's a huge amount of other poker variants available to play. If you want to try out something different then you can give
Razz
,
Five Card Draw
,
2-7 Triple Draw
,
HORSE
and even
Badugi
a go. Don't forget, if you've any questions about any types of poker variant ask them in our
Forum
and one of the team will be happy to help you out.
Team PokerStars School.