They say hard work breeds success, and no one exemplifies this like new Team PokerStars Pro Maria Konnikova.
Born in Moscow, Russia in 1984, Maria was 4 years old when her family came to the United States. A hard worker in school, Maria attended Harvard University, where she graduated magna cum laude with an A.B. in psychology and creative writing. 
Following her graduation from Harvard, Maria became a TV writer, journalist, and author. Her writing has appeared in many publications, including The New York Times, The Atlantic, The Paris Review, and The New Republic. Her first book, Mastermind: How to Think Like Sherlock Holmes, became a New York Times bestseller and was translated into 17 languages. Her second book, The Confidence Game, also made the New York Times best seller list in the crime and punishment category, as well as the Canadian best sellers list for non-fiction.
Maria's foray into the world of poker was, literally, by chance. With the intention to write her third book about this topic, she decided to immerse herself in the world of poker in order to research chance. Just as she'd done in her schooling and prior writing, Maria applied herself to learning how to play the game of poker. What she found however was not a game of chance, but a game of skill. 
Additionally she found a game particularly well suited to her educational background. To non-players, poker appears to be a game of cards played with people… but avid poker players understand it can also be a game of people, played with cards. Given Maria's expertise in the world of psychology, it should come as little surprise that she quickly developed a passion for the game of poker.  
Maria has put in the work, studying the game as well as getting coaching help from long time professional players like Eric Seidel, Phil Galfond, and Jason Koon. And her efforts bore fruit at the 2018 PCA in Bahamas, where she took down her first major live tournament, winning one of the $1650 buy in preliminary events for an $84,600 score, followed by a 42nd place finish in the $10,300 buy in PCA Main Event for another $22,020. Two months later, in March of 2018, she finished runner up in the APPT HK$20,000 buy in no-limit hold'em event, banking another $57,519 for her 2nd place effort.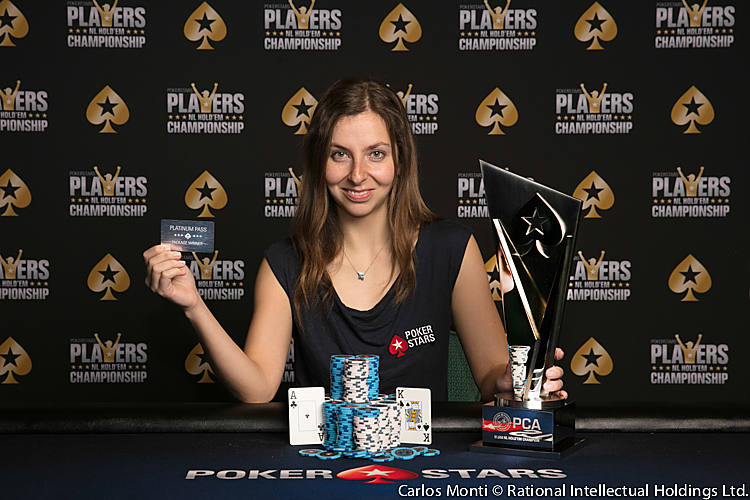 With her background, work ethic, and experience growing by the day, no one will be surprised if we see big things in the world of poker from the newest Team PokerStars Pro. And with what she's already accomplished in such a short time, she serves as a reminder that when you put in the effort to learning poker, you can reap the rewards of the game and set your life in a new direction, just like Maria did.
Check out Maria's Top Tips for Beginners
HERE
.
What do you think about Maria's story?  Share your comments below!